When Should Patients Consider a Facelift? Irvine Facial Plastic Surgeon Explains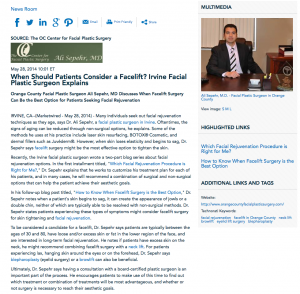 Orange County facial plastic surgeon Ali Sepehr, MD discusses when facelift surgery can be the best option for patients seeking facial rejuvenation.
Irvine, CA — Many individuals seek out facial rejuvenation techniques as they age, says Dr. Ali Sepehr, a facial plastic surgeon in Irvine. Oftentimes, the signs of aging can be reduced through non-surgical options, he explains. Some of the methods he uses at his practice include laser skin resurfacing, BOTOX® Cosmetic, and dermal fillers such as Juvéderm®. However, when skin loses elasticity and begins to sag, Dr. Sepehr says facelift surgery might be the most effective option to tighten the skin.
Recently, the Irvine facial plastic surgeon wrote a two-part blog series about facial rejuvenation options. In the first installment titled, "Which Facial Rejuvenation Procedure is Right for Me?," Dr. Sepehr explains that he works to customize his treatment plan for each of his patients, and in many cases, he will recommend a combination of surgical and non-surgical options that can help the patient achieve their aesthetic goals.
In his follow-up blog post titled, "How to Know When Facelift Surgery is the Best Option," Dr. Sepehr notes when a patient's skin begins to sag, it can create the appearance of jowls or a double chin, neither of which are typically able to be resolved with non-surgical methods. Dr. Sepehr states patients experiencing these types of symptoms might consider facelift surgery for skin tightening and facial rejuvenation.
To be considered a candidate for a facelift, Dr. Sepehr says patients are typically between the ages of 30 and 80, have loose and/or excess skin or fat in the lower region of the face, and are interested in long-term facial rejuvenation. He notes if patients have excess skin on the neck, he might recommend combining facelift surgery with a neck lift. For patients experiencing lax, hanging skin around the eyes or on the forehead, Dr. Sepehr says blepharoplasty (eyelid surgery) or a browlift can also be beneficial.
Ultimately, Dr. Sepehr says having a consultation with a board-certified plastic surgeon is an important part of the process. He encourages patients to make use of this time to find out which treatment or combination of treatments will be most advantageous, and whether or not surgery is necessary to reach their aesthetic goals.
About Ali Sepehr, M.D.
Dr. Sepehr is a fellowship-trained, board-certified facial plastic surgeon. He graduated summa cum laude from the University of California, Los Angeles, where he also remained to earn his medical degree. Dr. Sepehr is an active member of the American Academy of Facial Plastic and Reconstructive Surgery, and he is a Diplomate of the National Board of Medical Examiners. His work has been published in textbooks as well as scientific journals. Dr. Sepehr is available for interview upon request.
To learn more about Dr. Sepehr and his practice, please visit orangecountyfacialplasticsurgery.com or facebook.com/ocfacialplastics.
Contact:
OC Facial Plastic Surgery – Ali Sepehr, MD
360 San Miguel Dr Suite 409
Newport Beach, CA 92660
(949) 371-MYMD (6963)
Rosemont Media
[email protected]
(858) 200-0044
www.rosemontmedia.com