Whether you are a child or an adult, the appearance of prominent ears can make you feel self-conscious about the way you look and negatively impact your self-esteem. Otoplasty, or ear pinning surgery, is a procedure that can effectively reduce the appearance of ears that protrude too far from the head and improve aesthetic balance and harmony. As a top facial plastic surgeon in the Newport Beach area, Dr. Ali Sepehr can perform this commonly requested procedure to help you or your child achieve the desired results.
Dr. Sepehr understands that living with disproportionate or protruding ears can greatly impact your self-esteem, confidence, and overall quality of life. However, obtaining greater facial harmony is possible with otoplasty performed by an experienced facial plastic surgeon. Please contact Dr. Sepehr to schedule a consultation for otoplasty (ear surgery) at OC Facial Plastic Surgery.
What is Otoplasty?
Otoplasty is an aesthetic ear procedure designed to improve the shape, size, and/or projection of the ears in order to achieve a more balanced, proportional appearance. This surgery is among the few procedures considered safe for children — as well as adults — who have an irregular or dominant ear shape. Often referred to as "ear pinning surgery," otoplasty is performed not only to enhance facial proportions, but also to correct certain ear deformities. Macrotia, or the condition of having overly large ears, is commonly effectively treated with otoplasty. While the procedure can reshape and recontour the ears, otoplasty is not capable of addressing hearing problems or auditory concerns. When performed by a board-certified facial plastic surgeon, otoplasty can achieve extremely natural results with little to no evidence of surgery.
What are the Benefits of Otoplasty?
Large or protruding ears usually present no medical concerns, but the lack of facial harmony can often cause patients — especially younger patients — to experience psychological distress, a lack of confidence, and teasing from others. By reshaping the ears, otoplasty can enhance your entire appearance and create more balance between your facial features. The benefits of otoplasty generally include, but are not limited to:
A more proportionate and symmetrical appearance
Very discrete incision placement, leading to inconspicuous or hidden scarring
Can be safely performed on children who are good candidates for surgery, reducing the risk of bullying and teasing throughout their school years
A shorter, more tolerable recovery period when compared to other cosmetic procedures
Results designed to last a lifetime
The benefits of otoplasty can vary from patient to patient depending on their motivations for surgery, but the procedure generally offers a very rewarding and life-changing enhancement for patients who struggle with enlarged or protruding ears.
Am I a Candidate for Otoplasty?
Otoplasty is often performed on children or adolescents; however, the procedure is also very effective in older patients who would like to improve the appearance of their ears after what may have been a lifetime of self-consciousness. Candidates for ear surgery include:
Adults who would like to reduce the appearance of prominent ears
Children whose ear cartilage has reached at least 75% maturation (usually between five and eight years old)
Patients who suffer from a lack of self-confidence due to the appearance of prominent ears
Dr. Ali Sepehr will meet with you (or you and your child) for an initial consultation to discuss candidacy requirements and all aspects of otoplasty. He will answer all of your questions and help determine if this surgical procedure is the best option for your concerns.
Patient Results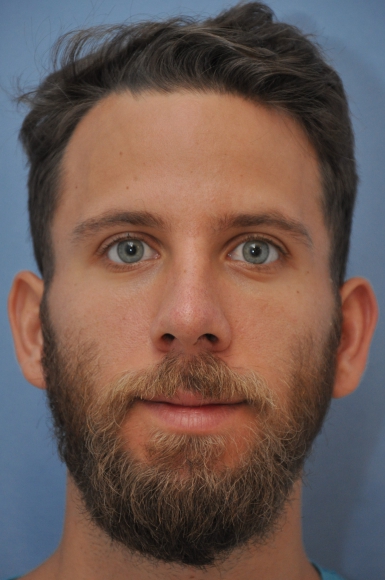 Before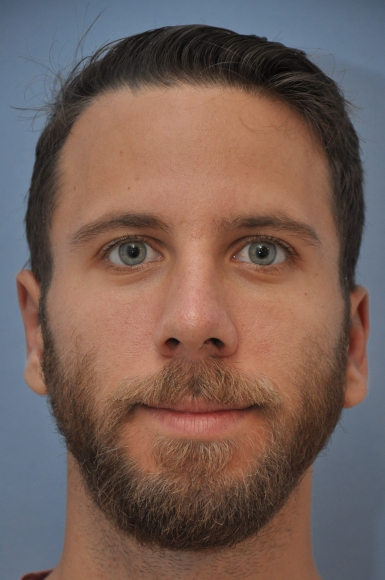 After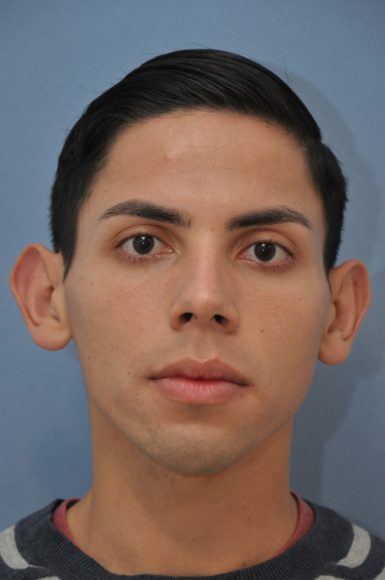 Before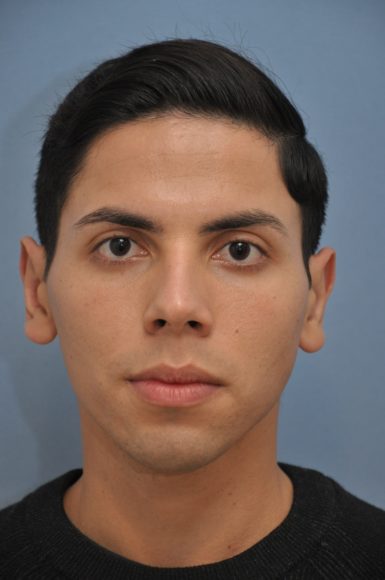 After
How is the Otoplasty Procedure Performed?
Ear pinning surgery is designed to bring better proportion to the ears and improve aesthetic balance. The best results make the ears appear smaller and bring them closer to the sides of the head. Dr. Sepehr will make a small, hidden incision behind each ear and resculpt the cartilage, moving it closer to the head. The procedure may be performed under local anesthesia depending on each person's case, or may require general anesthesia as each individual is different. It usually takes about one to two hours to complete the procedure. Otoplasty can be performed as an outpatient.
Did You Know?
Ear pinning surgery can be performed at any age after the ears have reached full size, usually around five to eight years of age.
What is the Recovery Period from Otoplasty Like?
There will be some bruising and swelling after ear surgery, and a dressing will need to be worn for a few days after the procedure. You will also be fitted for a soft headband to protect the ears during sleep and help aid in the recovery process. Most patients can resume normal daily routines after about one week; however, it's important that the ears are protected from harm for several weeks after surgery to ensure they have healed completely and can retain their new positioning.
How Long Will Otoplasty Results Last?
The outcome of otoplasty is designed to last a lifetime. Patients can usually enjoy their enhanced ear size/shape and newly proportionate sense of facial balance indefinitely. Otoplasty is also one of the only cosmetic procedures that offers virtually immediate results — the reduction of prominent ears should be evident once the surgical dressings, which are placed during the initial healing process, are removed. For more complex or reconstructive cases of otoplasty, the outcome may unfold in stages. In either case, otoplasty patients generally view their procedure as a highly rewarding enhancement that uplifts their confidence and sense of facial harmony. If you'd like to learn more about what otoplasty can accomplish, our before-and-after photos (more available in the office) can give you a general idea of the types of results possible with ear pinning/reshaping surgery.
How Much Does Otoplasty Cost?
The cost of ear pinning surgery can vary from patient to patient, depending on one's unique needs and aesthetic goals. The cost of otoplasty typically differs across geographic locations, with the fee also influenced by the expertise of a given plastic surgeon. Your true cost estimate will be determined by the extent of surgical work that needs to be done as well as the overall complexity of the procedure. Once your concerns are assessed in a consultation with Dr. Sepehr, our office can provide you with a personalized quote of your otoplasty expenses.
Dr. Sepehr accepts financing plans through leading healthcare lending company, CareCredit®, to give patients the option of paying for their surgery over time rather than in a lump sum. With an array of flexible payment plans to choose from, many of which include low- to no-interest options, this plastic surgery financing company can make it easier for qualified applicants to bring the cost of otoplasty into budget. To learn more about our accepted modes of payment, or if you have a question about the application process for CareCredit®, please reach out to our practice today.
What Will My Scars From Otoplasty Look Like?
Dr. Sepehr places all incisions behind the ear and works from this access point to reshape the cartilage, as well as reposition the ears closer to the side of the head. This discreet incision placement can typically hide all post-operative scarring and make any visible incision marks virtually undetectable to outside observers. As the healing process continues, many patients notice that their scars fade to some degree and become even more inconspicuous.
What are the Risks of Otoplasty?
Otoplasty comes with a risk of potential complications, just like all surgical procedures and medical treatments. On top of the possible risks associated with any type of surgery — such as infection, hematoma, complications with anesthesia, and poor wound healing — otoplasty in particular comes with a chance of asymmetry; contour irregularities; allergic reactions to the tapes, sutures, and materials utilized; and the potential need for revisional surgery in the future.
The most effective way to minimize the risks of otoplasty is to select a skilled double board-certified facial plastic surgeon to perform your procedure. Plastic surgeons who specialize specifically in face procedures have the highest level of training and experience when it comes to repairing ear deformities and enhancing facial harmony — this is the level of care you (or your child) deserve before, during, and after your procedure.
Choosing the Best Otoplasty Surgeon for You
When considering any type of cosmetic enhancement, the process of selecting a well-qualified plastic surgeon to perform your treatment should be undertaken with the utmost care. While choosing the best person to achieve your aesthetic goals may seem intimidating, our team has provided a few tips that can help you learn whether a prospective surgeon is equipped to address your unique concerns:
Select a facial plastic surgeon. It is often true that a facial plastic surgeon who focuses exclusively on procedures of the head and neck has more experience working with the complex facial framework than a general cosmetic surgeon. As a result, choosing a facial plastic surgeon to perform your (or your child's) otoplasty procedure can maximize the likelihood of achieving the desired aesthetic with optimal results and minimized visible scarring.
Learn your facial plastic surgeon's credentials. Make sure your surgeon is board-certified by the American Board of Facial Plastic and Reconstructive Surgery, as this distinction typically indicates a higher level of training, ongoing education, and commitment to excellence in all aspects of plastic surgery when compared to those who do not maintain accreditation.
Take a look at otoplasty before-and-after photos. The outcomes achieved by previous patients can be a strong indication of your potential results. Exploring your prospective surgeon's patient gallery can provide insight into his or her work, giving you the opportunity to gauge whether the aesthetic achieved aligns with your goals.
Read online reviews from previous otoplasty patients. Search through a facial plastic surgeon's website, as well as various third-party platforms like Facebook and Realself, to learn whether patients who had previously undergone the otoplasty procedure were happy with their final results. This can give you an idea of previous patients' levels of satisfaction, as well as shed light on the type of care that a given surgeon can provide.
Schedule a consultation. Once your research is complete, schedule a consultation with a facial plastic surgeon that meets all of your criteria. Meeting your prospective surgeon in person can help you more definitely decide whether you are comfortable entrusting them with your care (or your child's care). Use this as an opportunity to ask him or her any questions you may have about the otoplasty procedure, or their educational background and credentials.
Additional Otoplasty FAQs
How should I sleep after otoplasty?
After otoplasty, patients should sleep on their back with their head propped up by pillows. This can help avoid rolling onto the sides of the head, which may potentially delay the healing process and alter the results of your procedure. Dr. Sepehr can show you the optimal positioning to sleep prior to your procedure.
Can you repair a split or torn earlobe?
Dr. Sepehr can perform earlobe repair depending on your unique circumstances and the nature of the torn earlobe. This type of procedure does not usually require surgery on the ear cartilage, and instead focuses on the soft tissue of the earlobes. In many cases, the procedure can be performed in an in-office setting under local anesthesia. The best way to learn what earlobe repair may entail is to schedule a consultation with Dr. Sepehr.
Can you reduce the size of the ears?
Yes, achieving a smaller, more proportionate ear shape is a common goal of otoplasty. If your ears dominate your facial appearance or create a sense of imbalance, Dr. Sepehr can discuss the possibility of ear reduction surgery with you to improve facial harmony while still maintaining natural-looking results. Making the ears less prominent may involve reducing the size of the ears or bringing the ears closer to the sides of the head depending on your needs.
Does ear surgery hurt?
Most of the time ear surgery is performed under anesthesia, so patients should not feel discomfort at the time of their procedure. During the recovery period, temporary feelings of soreness, mild discomfort, and possible itchiness may occur, but should subside as your ears continue to heal. The surgical dressings and bandages placed after your procedure can also help to control swelling. Over-the-counter pain medication may be taken as necessary to enhance patient comfort.
Is otoplasty covered by insurance?
As an elective procedure, otoplasty is not usually covered by insurance companies. However, the cost of this cosmetic surgery can still be affordable with patient financing through CareCredit®. This payment option is frequently utilized to bring out-of-pocket expenses into budget, allowing qualified patients to pay for their procedure in smaller, more manageable installments as opposed to a lump sum up front. Our office would be happy to speak with you about the cost of otoplasty and options for patient financing — please don't hesitate to call our practice at (949) 371-6963 to learn more.
If you would like more information on otoplasty and ear surgery procedures, please contact OC Facial Plastic Surgery.