What is Otoplasty?
Whether you are a child or an adult, the appearance of prominent ears can make you feel very self-conscious about the way you look and have a negative impact on your self-esteem. Otoplasty, or ear pinning surgery, is a procedure that can effectively reduce the appearance of ears that protrude too far from the head and improve aesthetic balance and harmony. As a top facial plastic surgeon in the Newport Beach area, Dr. Ali Sepehr can perform this commonly requested procedure to help you or your child achieve the desired results.
Please contact Dr. Sepehr to schedule a consultation for otoplasty (ear surgery) at OC Facial Plastic Surgery.
Am I a Candidate for Otoplasty?
Otoplasty is often performed in children or adolescents; however, the procedure is also very effective in older patients who would like to improve the appearance of their ears after what may have been a lifetime of self-consciousness. Candidates for ear surgery include:
Adults who would like to reduce the appearance of prominent ears
Children whose ear cartilage has reached at least 75% maturation (usually between five and eight years old)
Patients who suffer from a lack of self-confidence due to the appearance of prominent ears
Dr. Ali Sepehr will meet with you or you and your child for an initial consultation to discuss candidacy requirements and all aspects of otoplasty. He will answer all of your questions and help determine if this surgical procedure is the best option for your concerns.
Patient Results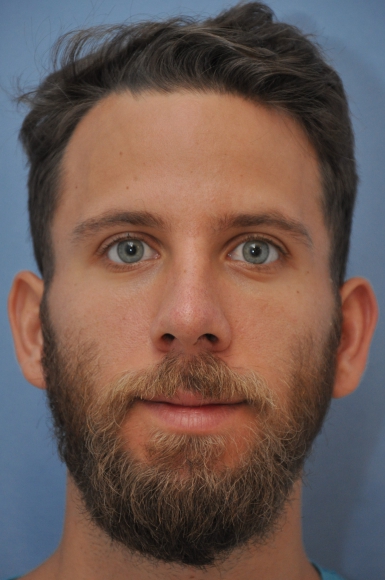 Before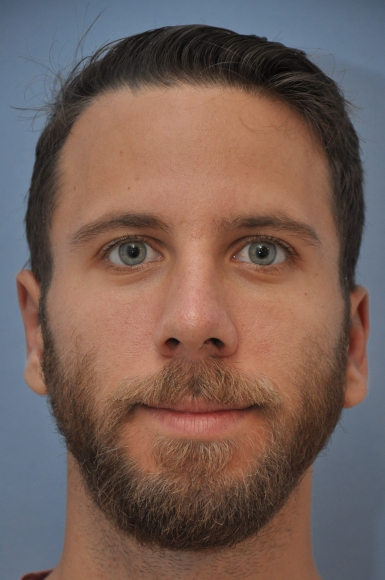 After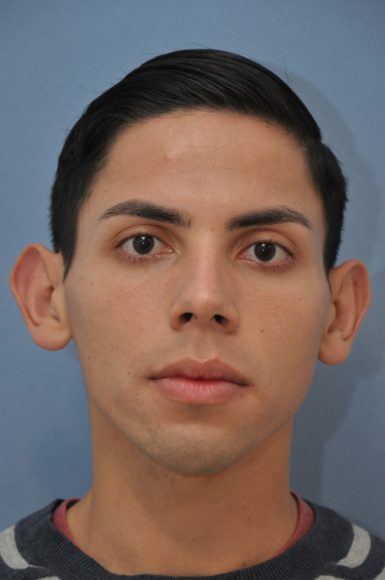 Before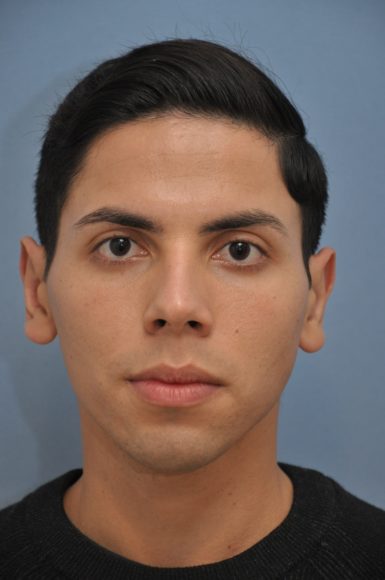 After
How is the Otoplasty Procedure Performed?
Ear pinning surgery is designed to bring better proportion to the ears and improve aesthetic balance. The best results make the ears appear appear smaller and bring them closer to the sides of the head. Dr. Sepehr will make a small, hidden incision behind each ear and resculpt the cartilage, moving it closer to the head. The procedure can be performed under local or general anesthesia, and usually takes about one to two hours to complete. Otoplasty can be performed as an outpatient.
Did You Know?
Ear pinning surgery can be performed at any age after the ears have reached full size, usually around five to eight years of age.
What is the Recovery Period from Otoplasty Like?
There will be some bruising and swelling after ear surgery, and a dressing will need to be worn for a few days after the procedure. You will also be fitted for a soft headband to protect the ears during sleep and help aid in the recovery process. Most patients can resume normal daily routines after about one week; however, it's important that the ears are protected from harm for several weeks after surgery to ensure they have healed completely and can retain their new positioning.
How Much Does Otoplasty Cost?
The cost of ear pinning surgery can vary from patient to patient, depending on one's unique needs and aesthetic goals. The cost for Otoplasty typically differs across geographic locations, with the fee also influenced by the expertise of a given plastic surgeon. Your true cost estimate will be determined by the extent of surgical work that needs to be done as well as the overall complexity of the procedure. Once your concerns are assessed in a consultation with Dr. Sepehr, our office can provide you with a personalized quote of your otoplasty expenses.
Dr. Sepehr works with leading healthcare lending company, CareCredit®, to give patients the option of paying for their surgery over time rather than in a lump sum. With an array of flexible payment plans to choose from, many of which include low- to no-interest options, this plastic surgery financing company can make it easier for qualified applicants to bring the cost of otoplasty into budget. To learn more about our accepted modes of payment, or if you have a question about the application process for CareCredit®, please reach out to our practice today.
What Will My Scars From Otoplasty Look Like?
Dr. Sepehr places all incisions behind the ear and works from this access point to reshape the cartilage as well as reposition the ears closer to the side of the head. This discreet incision placement can typically hide all post-operative scarring and allow any visible incision marks to be undetectable to outside observers. As the healing process continues, many patients notice that their scars fade to some degree and become even more inconspicuous.
Choosing the Best Otoplasty Surgeon For You
When considering any type of cosmetic enhancement, the process of selecting a well-qualified plastic surgeon to perform your treatment should be undertaken with the utmost care. While choosing the best person to achieve your aesthetic goals may seem intimidating, our team has provided a few tips that can help you learn whether a prospective surgeon is equipped to address your unique concerns:
Select a facial plastic surgeon. It is often true that a facial plastic surgeon who focuses exclusively on procedures of the head and neck has more experience working with the complex facial framework than a general cosmetic surgeon. As a result, choosing a facial plastic surgeon to perform your (or your child's) otoplasty procedure can maximize the likelihood of achieving the desired aesthetic with optimal results and minimized visible scarring.
Learn your facial plastic surgeon's credentials. Make sure your surgeon is board-certified by the American Board of Facial Plastic and Reconstructive Surgery, as this distinction typically indicates a higher level of training, ongoing education, and commitment to excellence in all aspects of plastic surgery when compared to those who do not maintain accreditation.
Take a look at otoplasty before-and-after photos. The outcomes achieved by previous patients can be a strong indication of your potential results. Exploring your prospective surgeon's patient gallery can provide insight into his or her work, giving you the opportunity to gauge whether the aesthetic achieved aligns with your goals.
Read online reviews from previous otoplasty patients. Search through a facial plastic surgeon's website, as well as various third-party platforms like Facebook and Realself, to learn whether patients who had previously undergone the otoplasty procedure were happy with their final results. This can give you an idea of previous patients' levels of satisfaction, as well as shed light on the type of care that a given surgeon can provide.
Schedule a consultation. Once your research is complete, schedule a consultation with a facial plastic surgeon that meets all of your criteria. Meeting your prospective surgeon in person can help you more definitely decide whether you are comfortable entrusting them with your care (or your child's care). Use this as an opportunity to ask him or her any questions you may have about the otoplasty procedure, or their educational background and credentials.
If you would like more information on otoplasty and ear surgery procedures, please contact OC Facial Plastic Surgery.