About The OC Center for Facial Plastic Surgery
Our extensively trained facial plastic surgeon, Dr. Ali Sepehr, and the entire team here at The OC Center for Facial Plastic Surgery are committed to helping you achieve your goals with beautiful, natural-looking results. We offer comprehensive care from a compassionate team of medical professionals, and we are here to meet your needs.
Please take a look at a brief description of what our practice is all about, and contact our facial plastic surgery office in Orange County for more information.
OUR PHILOSOPHY
The OC Center for Facial Plastic Surgery mission is to enhance and enrich clients' lives by nurturing the appearance and the spirit through compassionate and dedicated personal attention. An important part of that mission is to provide excellent and natural results through state-of-the-art cosmetic procedures in a safe, pleasant, and private environment. High quality is our commitment, and patient satisfaction is our final reward.
OUR VISION
To be nationally and internationally recognized for the most highly skilled facial plastic surgery and aesthetic services.
OUR MISSION
To promote lasting loyalty through an exceptional experience of exemplary care.
To give women and men premier personalized care that combines both art and science for beautiful and natural results.
To provide patients with excellent surgical outcomes in the safest and most pleasant environment available
To critically evaluate the efficacy and overall benefit of every new procedure before it is introduced to patients.
To respect each patient's unique needs and guide them responsibly towards cosmetic or reconstructive solutions that best address their concerns.
OUR VALUES
Honesty, integrity, and the highest ethical standards
Unique, personalized, and comprehensive care
Meet Our Staff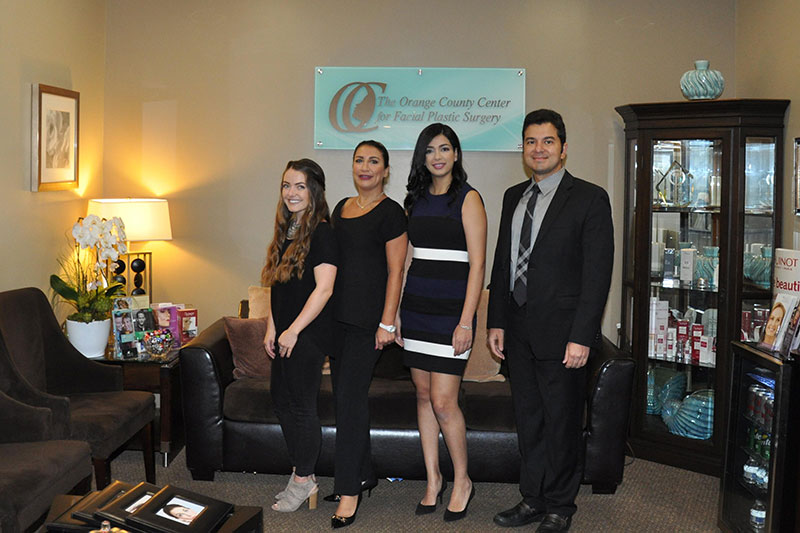 At The OC Center for Facial Plastic Surgery, we are committed to providing the highest level of facial plastic services, ranging from non-surgical treatments to surgical aesthetic procedures. This begins with our staff, which you will find to be very genuine and professional.
From the first phone call you will receive prompt, personalized service to help you feel respected and cared for.
Throughout the remainder of your care, all staff will treat you courteously, the same as valued friends and family, and make you feel at home. You will be treated with the level of care and kindness that helps you to feel comfortable enough to share all of your thoughts, questions, and concerns. Our team is dedicated to creating a safe, private, and convenient environment for all your facial plastic procedures. Continuing education of the staff in the field of Facial Plastic Surgery means our patients receive the safest and most professional care available. We are committed to the highest standard of care for each and every patient that enters our practice.
HOSPITAL AFFILIATIONS
We have admitting privileges at Hoag Hospital in Irvine and Newport Beach. We also serve in faculty positions at these hospitals. We are affiliated with all of the area health networks. Elective reconstructive procedures that require hospital admission with 24-hour nursing care are arranged in advance at one of the area hospitals.
For more information about The OC Center for Facial Plastic Surgery, our team, and the procedures we offer here at our practice, please contact Dr. Ali Sepehr.