Brow Lift (Forehead Lift)
As the combined forces of gravity, sun exposure, and repetitive facial expressions take their toll on the skin, the upper face can start exhibiting more and more signs of aging. The brow may begin to droop, while wrinkles often deepen around the eyes and across the forehead. For some patients, an expression of perpetual stress, exhaustion, or anger may permeate their features. These developments can make individuals look much older than they feel, but the aesthetic changes caused by aging don't have to be permanent.
Fortunately, a brow lift, also known as a forehead lift, can rejuvenate this area of the face and provide a more youthful, refreshed appearance. Dr. Ali Sepehr is a highly experienced facial plastic surgeon who can work with you to determine whether a brow lift may be the best solution to achieve your goals.
What is a Brow Lift?
A brow lift is designed to tighten lax skin on the forehead as well as elevate descended eyebrows to their natural positioning. This is done with the goal of restoring a youthful brow appearance, which is typically characterized by eyebrows that rest just above the orbital rim. By addressing the excess skin that tends to crowd the eyebrows—often creating an expression of stress or fatigue—a brow lift can also smooth frown lines and horizontal creases on the forehead for significant rejuvenation of the upper face. As a brow lift is intended to correct key indicators of age in this region, patients generally appear more refreshed and lively after the procedure and enjoy a younger-looking aesthetic.
Patient Results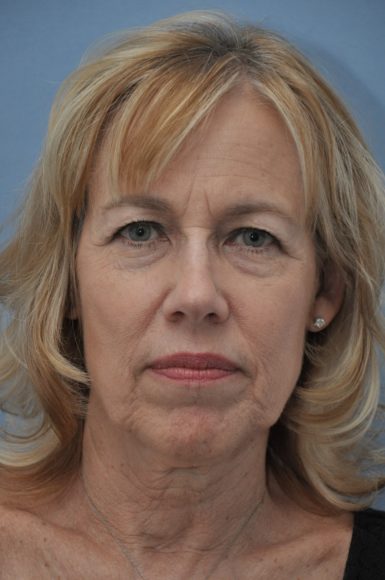 Before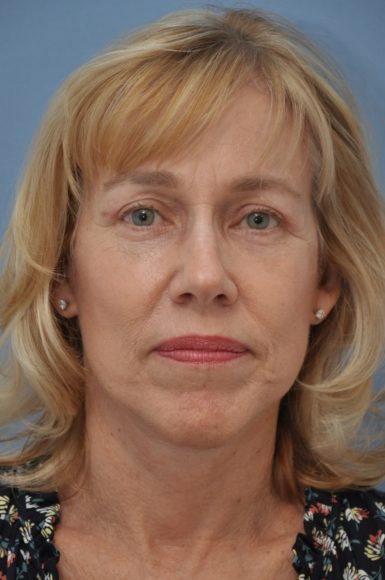 After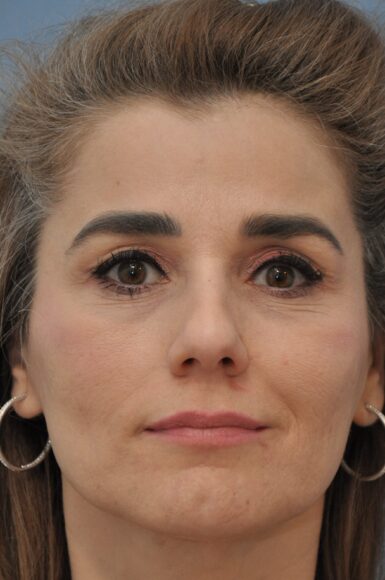 Before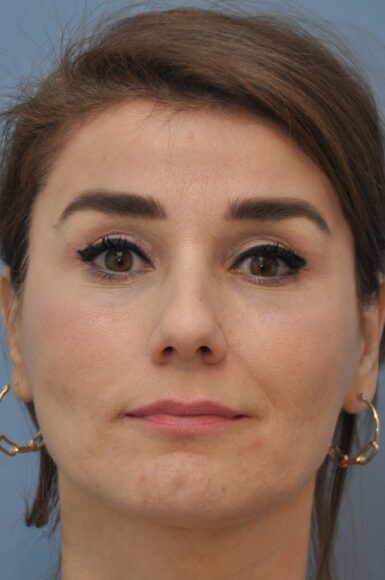 After
What Causes the Upper Face to Look Aged?
The anatomic changes that occur in the upper face over time are the result of reduced skin elasticity, repeated muscle contraction, and gravity. These three factors lead to the most prominent signs of aging in the upper face: horizontal forehead wrinkles, vertical wrinkles between the brows, and descended eyebrows. Drooping brows can also accentuate loose upper eyelid skin by causing the skin to fold in on itself even more—a condition called "hooding." Therefore, the appearance of the upper eyelids is very much dependent on the positioning of the eyebrows.
With all this in mind, patients who have a drooping brow often experience skin laxity in their eyelid contours as well. These characteristics usually exacerbate an aged or fatigued appearance, which can only be reversed for the long term by surgically addressing the skin, fat, and muscular tissue in this region of the face.
What Concerns Can a Brow Lift Address?
Brow lift surgery can improve several indicators of age that may be causing you to look angry, stressed or tired, including:
Drooping brows
Lax skin along the forehead
Frown lines, or wrinkles between the brows
Deep creases along the forehead
Although the procedure can be very effective in rejuvenating the region from the eyebrows to the hairline, a brow lift cannot address excess skin around the eyes or the appearance of puffy eyelids. If these are concerns you're interested in correcting, a joint procedure consisting of a brow lift plus eyelid surgery is a relatively common treatment plan since the brow and eyes tend to age together.
Who is a Candidate for a Brow Lift?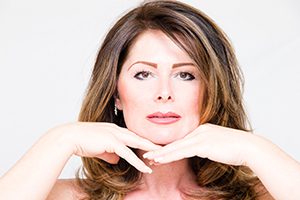 Descended eyebrows may be improved by the brow lift or forehead lift operation, which is intended to lift the skin of the brow and prevent it from crowding and bunching up the upper eyelids. Candidates for this procedure often complain of looking tired or fatigued because of saggy brows, or even looking angry because of frown lines between the eyebrows which give off the perception of scowling. This procedure is designed to elevate the brows and reduce a heavy brow appearance. This can help open the eyes, making them look wider, brighter, and more rested. Furthermore, a surgical brow lift can remove the wrinkles between the eyebrows, creating a happier look. It can also smooth forehead wrinkles and give the entire upper third of the face a more youthful and elegant appearance. You may be a candidate for brow lift surgery if:
Your eyebrow position has lowered and gives off the appearance of excess upper eyelid skin
You would like to have a brighter, more open-eyed look
You desire a more youthful expression by smoothing the forehead
How is Brow Lift Surgery Performed?
Before the procedure you will meet the operating room nurse and the anesthesiologist, who will both ask you questions to make sure the operation proceeds as safely as possible. The procedure takes approximately 1-2 hours. When you wake up, you will have a soft head wrap dressing and a drain with a bulb. After the procedure, you will be monitored to make sure you have no pain or nausea. The nurse will also teach you how to care for the drain. You can expect to be at the surgery center for about half of the day. A variety of techniques are available and a consultation is necessary to determine which is the most appropriate. As with any procedure, your thorough understanding of the preoperative and postoperative instructions is essential to a successful outcome.
Endoscopic Brow Lift
The endoscopic technique often reduces the amount of downtime, scarring, and discomfort commonly associated with a traditional brow lift. Dr. Sepehr performs an endoscopic brow lift by placing three to five small incisions that allow him to lift and redrape the skin of the forehead while removing excess tissue that may be causing deep wrinkles along the brow. The forehead will then be gently repositioned to restore drooping eyebrows to their proper location. Special surgical instruments designed to limit tissue disruption are used during the endoscopic procedure, often reducing the amount of bruising experienced during the recovery period. Thanks to Dr. Sepehr's strategic incision placement, the visibility of post-surgical scars is also minimized after the incisions fully heal.
Did You Know?
Dr. Sepehr frequently combines other procedures including facelift or eyelid surgery with a brow lift.
What is the Recovery Process From a Brow Lift Like?
Patients may experience discomfort in the form of a pressure headache. This can be well controlled with pain medication. After a brow lift, some swelling and bruising is expected. Please keep your head elevated above the level of your heart while sleeping to minimize the swelling that develops and to help expedite its disappearance. It is natural for the swelling to travel down the face while it is resolving. The amount of bruising and swelling varies, but typically most patients are sociable within 7-14 days.
Make-up can be worn immediately. If other procedures are performed at the same time as the brow lift, then avoid makeup over incisions for 7 to 10 days. Varying degrees of forehead numbness can occur. This can last a few weeks to a few months. Itching is expected and can be a sign of improvement. You can resume your cardiovascular or aerobic exercise after 2 weeks. Please avoid contact sports for 6 weeks.
As with all types of surgery, there are potential risks associated with brow lifts. Dr. Sepehr will speak with you about all of the risks and benefits of the procedure at your initial consultation, and he will be happy to answer all of your questions.
How Long Will Results From a Brow Lift Last?
A brow lift from Dr. Sepehr can typically last five to ten years, but results will vary depending on how you care for your skin, the kind of lifestyle you lead, and your unique genetic factors. To help extend the length of results, there are a variety of treatments, such as BOTOX® Cosmetic, that can achieve non-surgical enhancement and may be beneficial.
Will I Have Visible Scars After a Brow Lift?
There is the potential for residual scarring after a brow lift, as is typical with most surgical procedures. However, with Dr. Sepehr's extensive training and experience, he can often hide these incisions along your hairline. This can make the final results of a brow lift look as natural as possible.
How Much Does a Brow Lift Cost?
The cost of a brow lift is determined by the degree to which the brow has descended and the surgical technique used during your procedure. Other factors, such as geographic location and the experience of a plastic surgeon, can also impact the cost of a brow lift. Although not our practice, some places quote their costs excluding surgery center prices and anesthesia fees, so please be sure to ask. The details of your treatment plan will determine the true nature of your brow lift expenses and we will provide a personalized quote after Dr. Sepehr examines your needs in a consultation.
Dr. Sepehr offers a number of payment options to make the cost of a brow lift as affordable as possible. Plastic surgery financing through trusted institutions like CareCredit® and Prosper® Healthcare Lending can allow qualified applicants to pay for their treatment over a period of time, rather than all at once. After gaining approval through the easy application process, patients can receive the enhancement they desire while accommodating any budgetary concerns by choosing from a multitude of low- to no-interest payment plans. If you have any questions about our accepted modes of payment, please contact our practice today.
What are the Risks of a Brow Lift?
A brow lift comes with a risk of bleeding, poor wound healing, unfavorable scarring, and negative reactions to the anesthesia, which are all potential complications that could occur with any surgical procedure. According to the American Society of Plastic Surgeons, other risks unique to brow lift surgery include:
Elevated hairline
Loss of hair around the incision sites
Eye irritation or dryness
Safety is our highest priority at OC Facial Plastic Surgery, and Dr. Sepehr will make sure you understand all of the risks and limitations of the procedure before you decide whether to continue pursuing a brow lift. As long as you entrust your care to a board-certified plastic surgeon, brow lift surgery is considered a very safe and straightforward procedure with a minimal risk of complications. That said, selecting a facial plastic surgeon in particular can ensure you're receiving the highest standard of care from a doctor who specializes exclusively in facial procedures.
Is a Brow Lift Using BOTOX® Cosmetic Possible?
If you prefer to avoid surgery, treatment with BOTOX® Cosmetic can be an effective way to rejuvenate the brow using minimally invasive techniques. As a neuromodulator, BOTOX® Cosmetic can temporarily inhibit the muscle contractions that lead to dynamic wrinkles, such as frown lines, crow's feet, and pronounced forehead creases. In turn, these expression lines can be smoothed, providing a more youthful and refreshed look for months at a time. Although injections with BOTOX® Cosmetic are not a method of permanent rejuvenation, nor can this non-surgical treatment mirror the quality of results yielded by a brow lift, BOTOX® Cosmetic can be an exceptional means of enhancement for individuals who want to achieve a noticeable outcome quickly, or who do not wish to undergo an operation.
Can I Combine a Brow Lift With Complementary Procedures?
If your goals are to create a more youthful appearance for the entirety of the upper face, many of our patients have had positive results after combining both a brow lift with an eyelid surgery. The facial muscles in both of these areas work together to form expressions, and therefore typically wear at the same rate. An eyelid lift works to lessen a tired-looking appearance and a brow lift can improve skin laxity and creases along the upper facial skin and forehead. During your initial consultation, Dr. Sepehr can answer any questions you may have about combining eyelid surgery and brow lift. Cosmetic injectables and other rejuvenation procedures can also be ideal complements to brow lift surgery for patients who have aesthetic concerns in additional facial areas.
Kind professional and vey talented.
I would recommend the doctor to anyone.
His work is very natural looking.

Anonymous

February 29, 2012

12345
Additional Brow Lift FAQs
Should I have a surgical or non-surgical brow lift?
A surgical brow lift may be beneficial if your goal is to reduce excess or sagging skin, crow's feet, and/or wrinkles. A non-surgical lift may be better if you wish to improve your skin's texture, smooth some wrinkles, and increase volume along the brow line with advanced dermal fillers. Non-surgical brow lift procedures may be a good option if you are not able to take off much time for a longer recovery process. Ultimately this decision is up to you, but Dr. Sepehr is available for a personal consultation to help outline procedure specifics.
Will my insurance cover this procedure?
A brow lift is commonly considered a cosmetic procedure, meaning insurance is not likely to cover the costs. In some cases, if the weight of the forehead skin is pushing down the brows and the eyelids leading to impaired vision, some of the costs may be covered. It is best to check with your insurance provider to determine whether they offer coverage for brow lift surgery that is determined to be medically necessary. Our office staff would be happy to work with you to find financing options that could be beneficial.
How can I preserve the results of my brow lift?
The aging process continues after a brow lift, but you can maintain the rejuvenation achieved from surgery by wearing sun protection (hats, sunglasses, and sunscreen) and using high-quality skin care products. Rather than applying over-the-counter products sold in drug stores, medical-grade serums obtained from a physician can be stronger and more effective since they contain first-rate ingredients. Touch-up treatments with BOTOX® Cosmetic and/or dermal fillers can also help preserve a youthful brow if the effects of surgery begin to fade.
How can I reduce swelling after brow lift surgery?
It's normal for some degree of swelling to last for a few months after brow lift surgery. However, eating healthy, nutritious meals can help reduce inflammation and accelerate the healing process. Try to avoid alcohol and limit consumption of salty, processed foods. Smoking during recovery is prohibited, as it can delay healing, exacerbate scarring, and generally cause additional complications.
When can I return to work after a brow lift?
Depending on the technique used during your surgery, most patients return to non-strenuous work anywhere from a few days to two weeks after their procedure. If Dr. Sepehr performed an endoscopic brow lift, the recovery period is generally shorter when compared to a traditional brow lift. If your job involves physically laborious or taxing responsibilities, it may take four weeks before it is safe for you to return to work.
Should I get a facelift with my brow lift?
Since a brow lift only improves the upper face, many patients question whether a facelift is necessary to address the lower face and complete their results. If you would like to improve jowls and sagging skin along the cheeks, a facelift can be an excellent addition to your treatment plan. Dr. Sepehr can discuss your goals with you to determine whether a facelift would help you to achieve the look you desire.
What's the best age for a brow lift?
When determining candidacy for a brow lift, an individual's age is typically less important than whether a patient shows the requisite signs of upper facial aging to benefit from surgery. Therefore, someone who is younger and exhibits drooping brows and frown lines may be a better candidate for the procedure when compared to an older patient who still retains good skin elasticity—it simply depends on each person's unique rate of aging. Dr. Sepehr will assess your candidacy based on your concerns, aesthetic goals, and previous medical history.
Is a brow lift for men different from a brow lift for women?
In general, the surgical techniques for a brow lift are the same for both male and female patients. However, the procedure will always be personalized according to a patient's aesthetic desires and natural characteristics to ensure results appear harmoniously with one's existing features. This means that Dr. Sepehr will strive to emphasize the masculine angles of the face for men, while he may highlight softer and more refined contours for women. Ultimately, the goal is to achieve natural-looking rejuvenation with techniques custom-tailored for each individual.
Is getting a brow lift for hooded eyes effective?
Upper eyelid surgery is considered the gold standard of treatment for correcting "hooded" eyes, although a brow lift can further emphasize and improve these results. These two procedures are frequently performed together to comprehensively refresh the upper face, as the eyes and brow generally age in tandem with each other.
Please contact OC Facial Plastic Surgery to schedule a brow lift consultation at our practice.