Facelift with Lifelong Lift™
Over time, our facial bones shrink. Also, the sun causes skin to lose elasticity, and gravity causes ligaments of the underlying soft tissues to stretch. As a result, the skin develops wrinkles, and gravity causes the muscle and fat overlying the facial skeleton to sag and droop, forming jowls and a double chin (loss of the horizontal jaw neck line). These changes can create discordance between how active people feel and what they see in the mirror. Therefore, people who are engaged in life often feel a desire to have a more youthful outer appearance that reflects their inner energy.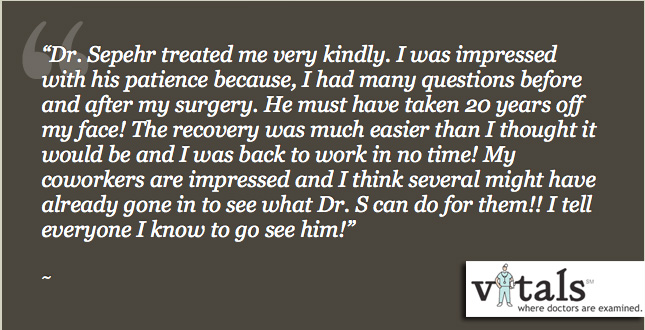 A facelift with the Lifelong Lift™ technique, developed by our board-certified facial plastic surgeon, Ali Sepehr, MD, can smooth out wrinkles and fine lines and take years off the appearance of your face. Please contact The OC Center for Facial Plastic Surgery to schedule a consultation for facelift surgery.
What is the Lifelong Lift™ Facelift?
A facelift, technically known as rhytidectomy, can affect one's appearance as dramatically as any other operation—it is common to look about ten years younger after a facelift and neck lift. Facelift surgery can be an effective and safe procedure that reduces sagging and drooping in the lower half of the face by repositioning the underlying descended muscle and fat back to their original position. A facelift also reduces the wrinkling by trimming away excess skin. The greatest effect of the facelift is often seen in a much more defined jawline by decreasing jowling. The cheeks are also enhanced with a facelift. In contrast to short techniques, in which the effects of surgery often don't last as long, the thorough and complete technique developed by Dr. Sepehr can have a very long-lasting outcome.
The Lifelong Lift™, a unique facelift procedure personally developed by Dr. Sepehr, is designed to yield incredibly enduring results by working in the deeper tissues of the face and neck. Using a multi-modal approach, Dr. Sepehr comprehensively addresses the facial structure to smooth pronounced facial lines, tighten sagging skin, and minimize the look of jowls in the lower face. This extensive rejuvenation can preserve the outcome achieved with facelift surgery for longer than traditional techniques.
Dr. Sepehr would be happy to describe the Lifelong Lift™ procedure in greater detail upon a consultation. To see what can potentially be achieved with a facelift, please feel free to explore the before-and-after photos in our patient gallery.
Who is a Candidate for a Facelift?
At your consultation, we will evaluate your face's bone structure, soft tissue covering, and skin. All of these factors, in conjunction with age, skin type, and ethnic background, impact the result of a face and neck lift. You may be a good candidate for facelift surgery if:
You are a man or woman between the ages of 30 and 80
You have excess lower facial and neck skin and fat
You desire a significant facial rejuvenation with results that can last longer than non-surgical cosmetic enhancement and injectable techniques
If you have extensive skin laxity in the neck, or a congregation of excess fat and redundant skin that may be preventing a well-defined neck profile, a neck lift is also available at our practice. The procedure can be combined with a facelift for a more complete cosmetic makeover.
How is the Facelift Procedure Performed?
A facelift typically takes between three to four hours and is usually performed under general anesthesia. The procedure begins by making a well-hidden incision, camouflaged within the hairline and in natural skin creases around and behind the ear (no hair is shaved). The skin is elevated. The Superfical Musculoaponeurotic System (SMAS) is seen. The SMAS layer (strong underlying connective tissue fascia) is mobilized and repositioned back to its normal, youthful location. This tightening naturally results in excess skin. The skin is redraped and the excess is trimmed. Drains are placed, and the incisions are closed with fine sutures. The healed incisions should be virtually invisible.
What is Recovery From a Facelift Like?
You may choose to stay overnight under our care for comfort. The drains will be removed the first day after your facelift. Before you go home, you will have a light supportive facial garment placed over the facial area. The mild discomfort and tight pressure sensation can be easily controlled with pain medication as needed. All stitches will be will be removed on the 8th post-operative day. Recovery time ranges from 1 to 3 weeks, however, on average after 2 weeks, others will not be able to tell you had surgery. Most swelling will have dissipated after six weeks. Some unavoidable areas of numbness will gradually decrease. Intermittent bursts of tingling signal the progressive return of sensation. You will likely see significant results within the first few months after treatment, with the most optimal results of facelift surgery becoming apparent after one year. Careful adherence to pre-operative and post-op instructions is necessary for optimal healing.
What Will My Facelift Scars Look Like?
There are a few different techniques that can be used to revitalize your appearance and Dr. Sepehr will provide additional information about which one may be appropriate for you during your initial consultation. Regardless of the approach, he will place the incisions within the hairline and/or the natural folds of the ear to keep them well-hidden. The scars should be relatively inconspicuous once fully healed.
How Long Will Results From a Facelift Last?
Facelift surgery can last many years if you take good care of your skin and avoid environmental damage. Dr. Sepehr's Lifelong Lift™ technique is also designed to provide longer-lasting results than the traditional approach, the outcome lasting for 10 or even 15 years for some patients. Occasional non-surgical maintenance may extend the benefits further, which we can discuss at your first appointment. We can also advise you on how to preserve your results with recommendations for skin care products and services.
How Much Does a Facelift Cost?
The cost of your facelift will be unique to your treatment plan, the price generally varying according to your geographic location and the expertise of your plastic surgeon. Patient reviews from Realself.com list the average cost of a facelift near Newport Beach as $11,575, with the price ranging anywhere from $5,000 to $18,000 depending on the complexity of your procedure. Specifically, the factors that will affect your cost estimate include:
The type of technique used
Whether your facelift was combined with other procedures
The extent of concerns addressed
The overall complexity of your procedure
After Dr. Sepehr examines your anatomical indicators and gains an understanding of your needs in a consultation, our office will be able to provide you with a personalized quote. In addition to accepting several major payment methods, we also work with leading plastic surgery financing companies like CareCredit® and Prosper® Healthcare Lending. These options offer qualified applicants a variety of flexible payment plans with low monthly installments to make the cost of a facelift more manageable. Once approved, patients can select the most ideal plan to accommodate their budgetary needs. If you would like to learn more about our accepted modes of payment, please contact our practice for additional information.
Can I Get a Facelift Without Surgery?
While a surgical facelift remains the gold standard for facial rejuvenation, signs of aging can still be corrected with non-surgical options for an exceptionally natural-looking outcome. Dr. Sepehr offers a liquid facelift for patients who cannot—or do not want to—undergo surgery, a treatment that uses various injectables to accentuate the youthful characteristics of your face. Using a custom treatment plan tailored to your individual concerns, a combination of dermal fillers and/or BOTOX® Cosmetic injections can be administered to fill in and smooth pronounced facial creases, restore volume to hollow areas, and make the youthful contours of your face more visible. Although the results are not as extensive or long-lasting as the surgical Lifelong Lift™ technique, a liquid facelift can be utilized to renew your facial aesthetic without downtime or anesthesia. Please inquire about a liquid facelift with Dr. Sepehr during a consultation if you are interested in this innovative non-surgical treatment.
What is the Best Age for a Facelift?
The need for a facelift is usually determined less by age and more by the extent to which a patient exhibits loose facial musculature, sagging skin, and jowls. Dr. Sepehr has performed facelift surgery on men and women from a broad range of ages. He has found that there are some patients in their twenties who experience the indications for a facelift, while other individuals near middle age may not benefit from the procedure. Therefore, there is no ideal age to pursue facelift surgery and candidacy is decided based on whether a patient has the requisite aesthetic concerns.
Choosing a Facelift Surgeon
To avoid the tight, pulled, or unnatural look that can result when a facelift is performed incorrectly, it is pivotal to select an experienced facelift surgeon who is well-equipped to make your aesthetic goals a reality. While researching your options, you can get an idea of whether a prospective surgeon is the right fit for you by:
Researching credentials. Learn about a plastic surgeon's educational background, board-certification, and where they received their training to gain an idea of their expertise. In general, choosing a board-certified facial plastic surgeon to perform your facelift can ensure you are in the hands of a qualified facial specialist who has been extensively vetted by the American Board of Facial Plastic and Reconstructive Surgery.
Learning about their expertise. It is often true that the more frequently a surgeon performs a facelift, the more adept they can be in tailoring the procedure to produce your desired final outcome. Find out whether a surgeon specializes in facelift surgery, or has developed a cutting-edge technique that improves upon the traditional procedure. Such aptitude can increase the likelihood that you are under the care of someone who is proficient working with the complex facial anatomy.
Looking at before-and-after photos. The quality of your results will likely be the ultimate determinant of your overall satisfaction. Explore a plastic surgeon's online patient gallery, or ask to see examples of previous facelift outcomes during a consultation. His or her portfolio can be an excellent indication of the type of results you can expect to achieve.
Reading testimonials. Online patient reviews can offer valuable insight into the level of care provided by a plastic surgeon, as well as the overall surgical experience offered at a given practice. Explore reviews from an array of platforms, such as Yelp, Realself, and Facebook, to attain a comprehensive understanding of patient satisfaction under a particular facial surgeon.
Once you find someone who meets your criteria, the next step is to schedule a consultation. This visit can be used as an opportunity to ask your potential surgeon any questions you may have about his or her training in person, and determine how comfortable you feel in their care. Ultimately, make sure you choose a surgeon who keeps you well-informed about the procedure by answering all of your questions and concerns patiently and thoroughly.
Learn More About Facelift Surgery
We understand you may have many questions, and we would like to help. Dr. Sepehr has provided answers to some of the most commonly asked questions about facelift surgery to aid you in your research. If you would like to learn more, or if you're ready to schedule a consultation, please contact our skilled medical team.
Is a facelift right for me?
Are you bothered by skin laxity and contour loss on your mid to lower face and jawline? Facelift surgery is designed to improve these concerns and provide long-lasting facial rejuvenation. Ideal candidates for this procedure will also be in good general health, be nonsmokers (or able to stop smoking for a period before and after surgery), and have reasonable expectations for the outcome. Dr. Sepehr will take the time to understand your needs and goals and provide a thorough overview of what can be accomplished. With his guidance, you can develop a customized treatment plan designed with your individual characteristics in mind.
Can a facelift smooth wrinkles?
The primary purpose of a facelift is to address skin laxity and loose muscles, not necessarily to smooth wrinkles and fine lines. Some deeper creases can be addressed; however, to achieve a natural-looking outcome it is best not to stretch the skin in an attempt to artificially reduce the appearance of lines. If you have wrinkles you would like to soften, we can utilize dermal fillers and cosmetic injectables as part of a multi-modality treatment plan. By incorporating these techniques, you can obtain more comprehensive rejuvenation that still appears very natural.
When can I return to work?
Everyone recovers at their own unique rate, and we encourage you to listen to your body and proceed with caution. Most patients can return to their regular daily schedule after a week or two, with some individuals choosing to return after three weeks. Swelling, bruising, and numbness are common effects, and each of these should gradually subside as you heal. Additionally, you should avoid strenuous activity and exercise for at least a month to six weeks. Dr. Sepehr will provide more specific information tailored to your treatment plan during your follow-up visits.
Facelift procedures should be performed by a qualified surgeon. Please contact us to schedule a consultation for facelift surgery at our practice. Dr. Sepehr would also be happy to answer any questions you have in regards to other procedures, like rhinoplasty and facial implants.
*Individual Results May Vary