Many people would like to enhance the appearance of their lips, which can ultimately have a positive effect on the entire look of the face. While lip augmentation with injectable dermal fillers can provide beautiful results, surgical techniques can also give the lips a fuller, more youthful appearance with very long-lasting results. Surgical lip lifting from Dr. Ali Sepehr can enhance naturally thin lips, improve a flattening of the "cupid's bow," and combat the effects of aging with excellent results.
Please contact OC Facial Plastic Surgery for more information on surgical lip lift procedures.
Who is a Candidate for a Lip Lift?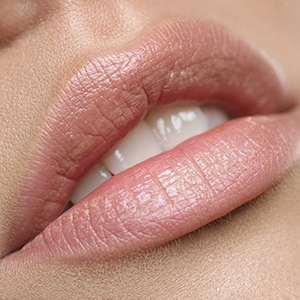 Surgical lip lifting is different from injectable treatment in that it is a surgical procedure designed to provide extraordinarily long-lasting results. Candidates for surgical lip lifting include:
Patients who are seeking to enhance and add a modest amount of volume to the appearance of the lips
Patients who are looking to widen the colored areas of their lips
Patients who are looking to minimize signs of age on the lips
Patients who are looking for lip augmentation solutions that last longer than injectable fillers
Our experienced facial plastic surgeon will talk about all aspects of surgical lip lifting treatment with you during your initial consultation. For patients who desire a less-invasive lip augmentation procedure, and for those who are looking for more temporary results, injectable treatments may be a better alternative. Dr. Sepehr will discuss your options with you and help you determine the best treatment for your needs.
Patient Results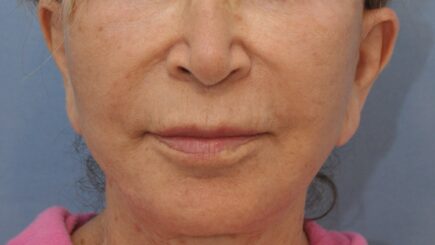 Before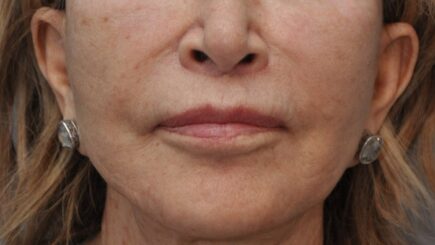 After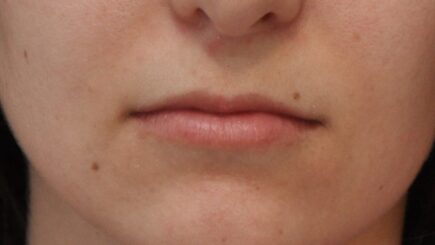 Before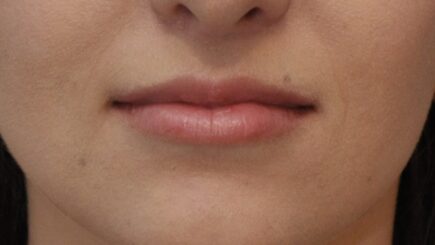 After
How is Lip Lift Surgery Performed?
Dr. Sepehr can perform a number of different lip lifting techniques; however, the most common is the Subnasal Incision, or "bullhorn" technique. During this procedure, Dr. Sepehr will make a small incision under the nose and remove a thin strip of tissue. The removed skin looks somewhat like the shape of a bull's horns. The edges of this incision are then closed together, resulting in a shorter upper lip and enhancing its contours and shape. Dr. Sepehr will work diligently to make any residual scarring virtually unnoticeable. With this procedure, the incisions are hidden in the natural depression under the nose, which can lead to very small and inconspicuous scars.
Surgical lip lifting can be performed under general anesthesia or with a local anesthetic and I-V sedation on an out-patient basis.
What is Recovery From a Lip Lift Like?
Patients can expect some swelling and bruising in the treatment area for a few days after the procedure. Any discomfort can be managed with medication. As with any surgical procedure, there are risks involved with lip lifting, including a very rare risk of temporary or permanent numbness in the lips. Dr. Sepehr will talk with you about all risks of this procedure at your initial consultation. Results of surgical lip lifting can last 5 to 10 years or more in some cases.
Will I Have a Lip Lift Scar?
A lip lift generally utilizes small incisions within the natural crease at the undersurface of the nose. As a result, scarring from a lip lift can be virtually undetectable once incisions are fully healed and the scar has begun to mature. While your aesthetic goals may warrant a different type of incision, Dr. Sepehr will fully inform you of what you can expect from your unique procedure with regard to scarring. Dr. Sepehr's extensive experience in facial plastic surgery has allowed him to refine his technique for optimal incision placement and inconspicuous post-surgical scarring. Moreover, many patients typically notice that their scars fade to some degree over time. Following Dr. Sepehr's instructions on proper scar care can help increase this likelihood.
How Much Does a Lip Lift Cost?
The cost for lip lift surgery generally varies nationwide. Your true cost will be determined by the details of your treatment plan. After your concerns are examined in a consultation, our office will be able to provide you with a more personalized quote of your lip lift expenses. Dr. Sepehr accepts
plastic surgery financing
through trusted healthcare lending institutions like CareCredit
®
and Prosper
®
Healthcare Lending, which both offer an array of low- to no-interest payment plans for qualified applicants. This can help patients accommodate their budgetary needs while still achieving the enhancement they desire. To learn more about the cost of a lip lift, please contact our practice.
Non-Surgical Lip Enhancement
While a lip lift procedure can be an excellent way to achieve fuller, plumper lips, individuals who do not wish to undergo a surgical operation can achieve comparably exceptional results with minimally invasive lip enhancement techniques. In addition to a lip lift, Dr. Sepehr also offers non-surgical lip rejuvenation in the form of dermal fillers to provide a more defined and voluminous lip shape according to his patients' various needs.
JUVÉDERM VOLBELLA®

JUVÉDERM VOLBELLA® is a state-of-the-art dermal filler formulated especially for lip enhancement. Composed of hyaluronic acid—a naturally occurring substance in the body—VOLBELLA® is FDA-approved for subtle additions of volume to the lips for a fuller, more distinguishable lip shape and a softer pout. VOLBELLA® can also be utilized to soften lines and wrinkles around the mouth for comprehensive lip rejuvenation.
Dr. Sepehr personally administers VOLBELLA® injections at his practice to ensure the highest level of patient care. He can use his experience in aesthetic plastic surgery to strategically inject the filler in targeted regions of the lips for an elegant, natural-looking outcome. Individuals seeking a timely and effective treatment with little to no downtime may benefit from JUVÉDERM VOLBELLA®, as most treatments typically take 30 minutes or less and a majority of individuals can return to work or other daily activities immediately following treatment. While results do not outlast those of a surgical lip lift, this dermal filler can provide a rejuvenated appearance in the lips for up to one year, with touch-up treatments available upon request.
Dr. Sepehr is always friendly. I appreciate that he truly cares about you, and only offers what will actually work on you personally. I highly recommended Dr. Sepehr.

Tracy Walsh

August 31, 2018

12345
If you would like more information on surgical lip lift and augmentation procedures, or if you would like to schedule a consultation with Dr. Sepehr to talk more about your options, please contact us today.