Rhinoplasty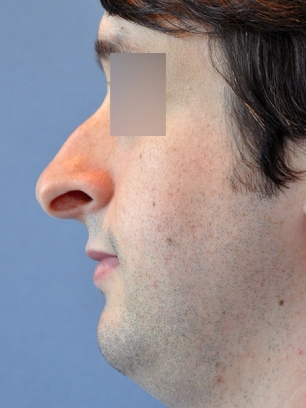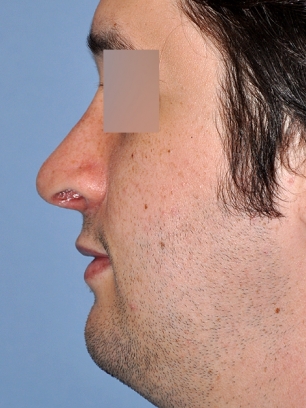 Before
After
View the Gallery
Rhinoplasty is the name of the operation that improves the form (shape) and function (breathing) of the nose. It is one of the most common plastic surgery procedures, and it is popular among both men and women. Rhinoplasty can reduce or increase the size of the nose, reshape the tip of the nose, move it up or down, and narrow or straighten the bridge. Some patients want their nose smaller, some want it straightened, some want the hump reduced, and others yet want it narrower. To achieve a satisfying outcome, the patient's desired result should be the goal of the surgical plan. Therefore, it is essential for your plastic surgeon to take the time to listen to you and get a clear understanding of what you would like.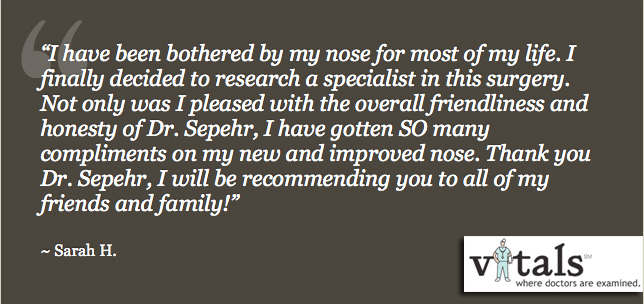 Who is a good rhinoplasty candidate?
Rhinoplasty requires not only exceptional skill but also the highest sense of artistry to create a natural-looking nose, which is in harmony with the rest of the facial features. Just as every patient's nose is different, their faces are also different, and the new shape has to fit the face.  This ideal new shape will be determined by many factors, including one's height, age, skin thickness, and ethnic background. Rhinoplasty will also help with the configuration of other features, such as the forehead, eyes and chin, to make a more natural look. You may be a candidate for rhinoplasty if:
You desire to improve the appearance of your nose
You desire to improve nasal breathing*
You have had previous nasal surgery and are dissatisfied with the outcome
* The reconstructive or functional portion of a septorhinoplasty is covered under most insurance policies
The amount of change that can be expected depends on many factors, including skin type, ethnicity, and age. At your initial consultation, an overall evaluation of the underlying structure and overlying skin will help determine what outcome is a realistic expectation.
Rhinoplasty Procedure
Technically, rhinoplasty is performed by placing well-hidden incisions in and around the nostrils.  These incisions allow the surgeon to lift the skin to obtain excellent exposure of the underlying bone and cartilage. The underlying bone and cartilage is then contoured to make the nose more harmonious and balanced to the rest of the face. The procedure lasts approximately two to three hours; however, it depends on the complexity of the case.
Many patients are referred to us for revision rhinoplasty. These cases are of higher complexity because of the corrections that need to be made as a result of the initial surgery. We take all the time that is needed to get the best possible result. You can expect to be at the surgical center for approximately half a day.
>>DID YOU KNOW?
Dr. Sepehr has authored numerous scientific articles on rhinoplasty and continues to actively teach fellows, residents, and medical students from University of California, Irvine Medical Center on the subject.
Recovery
Following your rhinoplasty procedure, you will need someone to drive you home. Your nose will be congested but will gradually improve. We do not ordinarily "pack" the nose after surgery. A special dissolvable suture is used to stabilize the changes and eliminates the need for nasal packing. Patients, therefore, are more comfortable and generally less swollen. With the elimination of nasal packing, pain, swelling, bleeding, and discoloration are dramatically reduced making the recovery period much more pleasant for the patient.
There is usually very little pain after the operation. Most patients experience pressure from the swelling inside the nose. The discomfort is easily controlled with pain medication. The majority of patients take something strong the first night, about half take it the second night, and a few take it the third night. After that the majority only need Tylenol® if anything.
You will experience variable degrees of swelling and bruising for the first 7-14 days. Sleep with your head above the level of your heart to minimize the swelling and bruising.  Most swelling should be gone after about six weeks; however, there may be a small, virtually unnoticeable degree of swelling present for several months after treatment.
Most patients can return to work and social events after 7-14 days with makeup as needed.
Cost of Rhinoplasty
Rhinoplasty can enhance the appearance and function of the nose, as well as harmonize facial features. Our board certified facial plastic surgeon utilizes some of the most advanced techniques available to achieve beautiful, natural-looking results. When you arrive for your initial consultation, Dr. Sepehr will review the particulars of your customized treatment plan, including the fees, so you can make a well-informed decision. As with all cosmetic surgery procedures, the cost will depend on several factors, including:
Technique used and complexity of treatment
Surgeon's fee
Anesthesiologist's fee
Hospital fee
Post-operative medications
Broadly speaking, rhinoplasty can cost anywhere from a few thousand to several thousand dollars. We understand that you may wish to compare treatment plans with other surgeons as part of your research. When making a comparison, it's important to ask what is included in the quote you receive. Prices can vary significantly, in part because some practices mention only the surgeon's fee while others refer to the full cost of treatment. We believe having a comprehensive understanding of rhinoplasty, fees, and recovery can enhance the patient experience and improve long-term satisfaction. We strive to provide thorough and straightforward information to allow you to make the best decision for your needs and goals.
Nose surgery for cosmetic reasons will not be covered by medical insurance; however, if you have functional concerns, such as a deviated septum or fracture, your policy may offer partial coverage. Additionally, our practice offers a number of payment and financing options to help bring the cost of treatment into your budget.
I highly recommend Dr Sepehr. I have had a few things done starting with a rhinoplasty and upper and lower lid blepharoplasty. During my consultation for those I felt very comfortable and confident that I was going to love the results. Dr. Sepehr was thourough and made sure I fully understood the procedures and what to expect as I was healing. The results were so natural even my ex-husband did not know I had anything done! I am very pleased with my results and the patient care I have received was beyond my expectation I truly felt cared for.
-Meghan, 31

Noella Del Sol

May 31, 2016

12345
Frequently Asked Questions (FAQs) About Rhinoplasty
If you're considering nose reshaping surgery and want to learn more, Dr. Sepehr has provided answers to some of the most commonly asked questions about this procedure. For more information, or to schedule a consultation, please reach out to our team online or by phone.
What concerns can this procedure address?
When performed by a skilled facial plastic surgeon like Dr. Sepehr, rhinoplasty can improve a number of aesthetic and functional issues. In addition to removing humps, improving symmetry, and narrowing or widening the nasal bridge, this procedure can be used to change the angle of the nasal tip, enlarge or reduce the size of the opening of the nostrils, enhance breathing, and alter the length of the nose. If you have a specific concern in mind, you can share this objective with Dr. Sepehr, and he will determine if your desired outcome is possible.
What if I have a deviated septum?
A deviated septum can make breathing more difficult, and this concern may or may not be visible externally. This issue can usually be corrected during a rhinoplasty, as part of a plan to enhance both the aesthetics and the function of the nose. If you just want to address the deviated septum, a technique called septoplasty can be performed. It is designed to modify the placement of the bone and cartilage that separates the nostrils from one another. By changing the structure to enhance breathing, the appearance of the nose may also be affected. Dr. Sepehr takes great care in providing a cosmetically appealing result that best suits the proportion of your face and features.
How is the procedure performed?
Rhinoplasty can be performed as an open or closed surgery. A closed (endonasal) rhinoplasty uses incisions that are located within the nose, so there are no visible scars; however, not all types of concerns can be addressed using this method. An open rhinoplasty requires an incision on the underside of the nostril, called the columella, which allows Dr. Sepehr to access the internal structures of the nose. Once healed, the scar is often barely noticeable. During your initial consultation, Dr. Sepehr will let you know which technique can provide the optimal outcome for your customized treatment plan.
Will there be any scars?
If you have an open rhinoplasty, you may have a small scar on the underside of your nose. Most patients report that this mark is virtually invisible once fully healed. Dr. Sepehr can explain more precisely what to expect from the final result, including what the scars, if any, may look like. He strives to provide a very natural-looking outcome without discernible signs of surgery.
Is the procedure permanent?
Rhinoplasty is considered a permanent procedure. If you have received rhinoplasty from another surgeon and are unhappy with the result, revision rhinoplasty from Dr. Sepehr may be able to help achieve the desired outcome. While often a more complicated surgery, Dr. Sepehr's extensive experience and skill allows him to effectively address concerns in many cases, regardless of whether the issue is cosmetic or functional in nature. We encourage you to come in for a consultation if you have questions about revision rhinoplasty; every patient's needs and goals are unique, and we will develop a treatment plan tailored to your individual characteristics.
When can I return to normal activity?
Swelling, bruising, and tenderness are common for the first few weeks, and you should expect to take at least a week off from your job, classes, and other responsibilities. You should also avoid strenuous exertion for at least four to six weeks, as this can cause additional swelling and may affect the length of the recovery process or your result. Dr. Sepehr will provide more specific instructions for you based on your treatment plan. While some residual swelling may still be present, most patients have a good idea of the final outcome after two to three months.
Can rhinoplasty be combined with other procedures?
Absolutely. We will tailor your treatment to best suit your anatomic needs and expressed goals. If you would also like to rejuvenate other areas of your face, both surgical and non-surgical options are available. Many patients like to enhance other features while improving the look of the nose. We offer a comprehensive range of cosmetic options for the face, including cosmetic injectables, laser skin resurfacing, and surgical techniques.
Rhinoplasty should be performed by a qualified surgeon. If you would like more information on the rhinoplasty procedure, or you believe you are a good candidate for the cosmetic surgery, please contact Dr. Sepehr to schedule a consultation for rhinoplasty at our practice. He will be happy to address any concerns you may have about the surgery as well as answer any questions regarding other facial procedures during a one-on-one session.
*Individual Results May Vary