What is BOTOX® Cosmetic?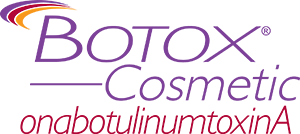 BOTOX® Cosmetic is injected to improve or erase mild to moderate wrinkles in the face, allowing patients to achieve smoother, more youthful skin. The results of this popular treatment can be very natural-looking and are usually noticeable soon after injections. Furthermore, the younger-looking appearance often achieved with BOTOX® Cosmetic has been shown to last three to six months, with touch-up treatments available as needed to preserve results. As one of the most widely-used facial rejuvenation treatments in the United States, BOTOX® Cosmetic is a popular choice for non-surgical enhancement at OC Facial Plastic Surgery.
Our board-certified facial plastic surgeon, Ali Sepehr, MD, personally performs BOTOX® Cosmetic and all cosmetic injections in our office to help ensure the highest level of patient care and safety. In most cases, treatment can be completed in as little as 15 minutes with no downtime after injections.
For more information about BOTOX® Cosmetic, or to schedule a consultation with Dr. Sepehr, please contact OC Facial Plastic Surgery today.
How Does BOTOX® Cosmetic Work?
BOTOX® Cosmetic is designed to prevent the overuse of facial muscles in areas prone to wrinkling. When you smile, frown, squint, or make other expressions, these muscles repeatedly contract and cause deep wrinkles to develop in the brow and between the eyes. Derived from a form of the neurotoxin botulinum type-A, BOTOX® Cosmetic works by temporarily relaxing these muscles, thereby smoothing lines and producing a more rejuvenated appearance.
What Concerns Can BOTOX® Cosmetic Address?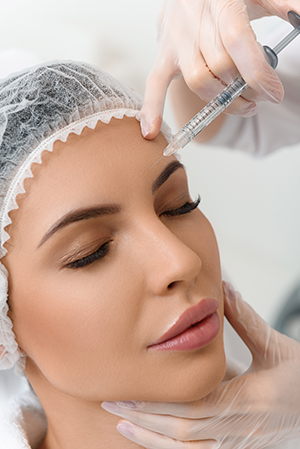 BOTOX® Cosmetic can smooth crow's feet, frown lines, and brow furrows, among other expression lines. There are a combination of factors that can create an aged appearance, including pollution, sun exposure, genetic predisposition, fatigue, and overuse of facial muscles. These elements often result in premature wrinkling in the forehead, between the eyebrows, and around the corners of the eyes. BOTOX® Cosmetic can be highly effective in reversing facial aging caused by these wrinkles, leading to a more refreshed look in the upper face.
Who is a Candidate for BOTOX® Cosmetic?
Patients who can benefit from BOTOX® Cosmetic injections typically:
Want to smooth creases, expression lines, and wrinkles in the upper face
Seek to address their concerns with a non-surgical treatment
Have no allergies to the ingredients in BOTOX® Cosmetic
Exhibit good overall health
During your consultation, Dr. Sepehr will discuss your aesthetic goals and examine your anatomic needs to determine if BOTOX® Cosmetic can help you achieve your desired outcome. He will also perform all injections himself to provide an exceptional experience from start to finish.
BOTOX® Cosmetic vs. Dysport®
BOTOX® Cosmetic and Dysport® are frequently compared as non-surgical anti-aging treatments. While both products use the same ingredient—botulinum type-A—to reduce muscle hyperactivity and erase fine lines in the upper face, there are certain differences that are worth noting.
Dysport® was approved by the U.S. FDA in 2009, making it a relatively newer treatment when compared to BOTOX® Cosmetic, which was FDA-approved as an aesthetic treatment in 2002. The side effects, longevity of results, and effectiveness of each product are very similar, but BOTOX® Cosmetic is composed of more purified proteins than Dysport®. Additionally, the molecular composition of BOTOX® Cosmetic is more uniform while Dysport® uses a varied protein structure. This is all to say that the effects of BOTOX® Cosmetic can be somewhat more predictable than Dysport®, partially because the injectable has been studied and utilized for a longer period of time. The Dysport® solution is also more diluted when compared to BOTOX® Cosmetic, although both can achieve similar rejuvenation.
How is BOTOX® Cosmetic Treatment Performed?
When Dr. Sepehr performs the procedure, he will utilize an ultra-fine needle to deliver the solution into the targeted areas. If requested, he can also apply a local anesthetic to enhance your comfort if requested.
One of the many benefits of BOTOX® Cosmetic is the brief treatment time. Many patients come in on their lunch breaks to undergo treatment and return to work immediately after. While every person's needs are unique and procedure times can vary, BOTOX® injections are generally administered within about 30 minutes. The effects of BOTOX® Cosmetic should be apparent a few days following treatment with the full results generally realized in one week.
Did You Know?
BOTOX® Cosmetic has been the #1 Most Performed Non-Surgical Procedure since its approval for cosmetic use in 2002.
Does BOTOX® Cosmetic Hurt?
We take great care to make your experience as pleasant as possible, and most patients report only minimal discomfort, if any. Dr. Sepehr can apply a topical anesthetic to the treated areas, if desired, to make your treatment more relaxing and comfortable.
Is There Any Recovery Time After BOTOX® Cosmetic Injections?
Many patients experience no downtime after receiving BOTOX® injections, and you should be able to return to normal activities immediately following treatment. Some redness, swelling, bruising, or tenderness around the injection site(s) is normal, and these effects should fade within a few days. You should consult your general practitioner before using BOTOX® Cosmetic if you have a history of neuromuscular disease or cardiovascular concerns.
How Long Does BOTOX® Cosmetic Last?
BOTOX® Cosmetic has been known to last up to six months. The duration of results will vary from patient to patient. In general, the average outcome from BOTOX® Cosmetic can be expected to last approximately three to four months. Regular maintenance sessions can help to extend its rejuvenative effects.
Are There Alternative Treatments to BOTOX®Cosmetic?
In addition to BOTOX® Cosmetic, Dr. Sepehr offers a broad range of other cosmetic injectables, including JUVÉDERM®, JUVÉDERM® VOLUMA, and JUVÉDERM® VOLBELLA. These dermal fillers are designed to plump skin, add volume, reduce common signs of aging, and achieve a more youthful appearance. If you're experiencing volume loss, thinning lips, aging hands, or other concerns, Dr. Sepehr can customize your treatment plan to help you attain more comprehensive facial rejuvenation without surgery.
Are There Any Side Effects From BOTOX® Cosmetic?
Some patients experience mild bruising or swelling, but this is a normal reaction to the injections and should subside within a few days. If symptoms persist one week after your BOTOX® Cosmetic treatment, please reach out to Dr. Shadfar for any concerns you may have.
Dr. Sepehr is very professional. I am very happy with the results of Botox treatment at his clinic

Kui Xu

November 03, 2018

12345
How Much Does BOTOX® Cosmetic Cost?
As a highly effective method of facial rejuvenation, BOTOX® Cosmetic can be a more economical option to treat premature signs of aging when compared to surgical solutions. While the total price of treatment will depend on the number of areas you wish to address, as well as the extent of concerns being treated, patient reviews from Realself.com list the national average cost of BOTOX® Cosmetic at $550. After your consultation, our team will apprise you of your expenses based on the details of your unique treatment plan. To make it easier for you to undergo injections, our practice works with highly reputable plastic surgery financing options, such as Prosper® Healthcare Lending and CareCredit®. These healthcare lending companies offer a wide variety of low- to no-interest payment plans that can be chosen according to your budgetary needs to make BOTOX® Cosmetic more affordable. Please don't hesitate to contact our office with any questions or concerns you may have about the easy application processes, or the price of treatment.
Is BOTOX® Cosmetic Safe?
BOTOX® Cosmetic has been safely administered to countless patients for decades. Since Dr. Sepehr, our board-certified facial plastic surgeon, meticulously performs each injection himself, you can feel confident that you are receiving the utmost level of safety and expertise during your BOTOX® Cosmetic treatment.
Who Should Inject BOTOX® Cosmetic?
From physician assistants to registered nurses, there are many medical professionals who can inject BOTOX® Cosmetic. That said, patients should ideally seek the expertise of a board-certified facial plastic surgeon to perform their injections. While considered a fairly straightforward treatment, BOTOX® Cosmetic should be meticulously delivered into the accurate facial muscles by a clinician with experience working with the anatomical structures of the face. Not only is this in the best interest of a patient's health and safety, but it is typically the most optimal way to help ensure a beautiful result.  At OC Facial Plastic Surgery, Dr. Sepehr personally performs all BOTOX® Cosmetic and dermal filler injections, giving our Newport Beach patients the advantage of receiving specialized care from a plastic surgeon with an exclusive focus on facial aesthetics.
For more information, please feel free to read the answers to our frequently asked questions about injectables. If you have additional questions about BOTOX® Cosmetic, or if you would like to schedule a consultation with Dr. Sepehr, please contact our office today.