KYBELLA™ for Double Chin Reduction
What is KYBELLA™?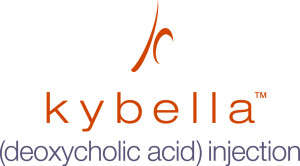 One of the most innovative treatments available, KYBELLA™ is an FDA-approved cosmetic injectable designed to reduce excess fat on the chin. This non-surgical technique from our Newport Beach facial plastic surgeon can help patients reduce the appearance of a "double chin" and achieve a more contoured profile.
If you would like to know more about KYBELLA™, or if you're interested in scheduling a consultation, please contact our practice today.
How Does KYBELLA™ Work?
Comprised of deoxycholic acid, a substance that naturally occurs in the body, KYBELLA™ works to break down fat cells which can then be removed through normal metabolic processes. The fat cells are destroyed gradually, producing a noticeably slimmer and more contoured effect on the treated area. Because the targeted fat is eliminated over the following weeks and months, results often appear to have been achieved naturally. During your initial consultation, Dr. Ali Sepehr can determine if KYBELLA™ is right for your needs and goals.
What Are the Benefits of KYBELLA™?
When diet and exercise fail to adequately address excess fatty tissue on the chin, KYBELLA™ may be able to help. The non-surgical cosmetic injectable offers a range of benefits, including:
Brief treatment time
Minimal downtime
Long-lasting results
No surgery or incisions
Gradual, natural-looking fat reduction
It's important to know, KYBELLA™ is not appropriate for everyone. Furthermore, KYBELLA™ is not designed to tighten skin, and some patients may benefit from alternative or additional techniques such as a neck lift. Dr. Sepehr will discuss your desired outcome and help you choose the best method for your goals.
KYBELLA™ vs. CoolSculpting®
Because KYBELLA™ and CoolSculpting® are designed to achieve selective fat reduction without surgery or downtime, they are often comparable treatments. The major difference between these non-surgical procedures is the technology that they respectively utilize to remove fat cells from the body. KYBELLA™ works through the inclusion of its active ingredient, deoxycholic acid. Upon injection of the solution, this substance aids in the breakdown and absorption of fatty tissue and can yield a noticeable reduction in fullness under the chin. In contrast, CoolSculpting® relies on controlled cooling technology to get rid of targeted fat. During CoolSculpting®, a handpiece exposes the treated area to extremely low temperatures, "freezing" and destroying the fat cells until they are gradually shed.
As KYBELLA™ works through meticulous injections rather than positioning the fatty tissue near a handpiece, this treatment can be more effective at addressing smaller areas of isolated fat when compared to CoolSculpting®. Therefore, patients with lower amounts of fat in the submental region may benefit more from KYBELLA™ treatment. Furthermore, a KYBELLA™ session can usually be completed in roughly 20 minutes while CoolSculpting® can take up to an hour.
What Is KYBELLA™ Treatment Like?
Your care, comfort, and safety are our highest priorities. KYBELLA™ is carefully and precisely delivered into targeted locations in the area of concern. Dr. Sepehr will use an ultrafine needle to enhance your experience, and most patients report that there is little to no discomfort. The procedure typically takes about 20 minutes, and you can return home immediately after treatment.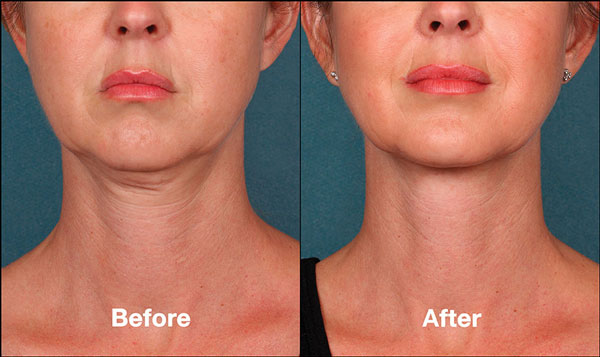 What Is Recovery From KYBELLA™ Like?
You may wish to take a day or two off from work to rest. After that, you should be able to return to your normal routine without restrictions. KYBELLA™ is designed to gradually break down fatty tissue, and you should begin to see results after two to three weeks. Full benefits should be visible after a couple months. One treatment often will be enough to achieve the desired outcome; however, each patient is different and experiences vary among individuals.
*Your results may vary
Does KYBELLA™ Cause Any Side Effects?
KYBELLA™ treatment may result in bruising, swelling, tenderness, or numbness in the submental region (under the chin and around the neck); however, these effects should resolve on their own. Ice packs and medication can help decrease swelling and manage discomfort in the meantime.
How Long Do KYBELLA™ Results Last?
Once the fat targeted by KYBELLA™ treatment is gradually shed, the results can be very long-lasting. Since we do not regrow fat cells, there may be no need for future retreatment if you maintain a stable weight and adhere to a healthy lifestyle.
How Much Does KYBELLA™ Cost?
The cost of KYBELLA™ varies from patient-to-patient, as there are factors unique to each person's treatment plan that can affect the total price. On average, patient reviews from Realself.com—a healthcare reviewing website—list the approximate cost of KYBELLA™ as $1,350. However, the ultimate cost of your treatment will be determined by:
The amount of solution needed to create your desired aesthetic
The number of KYBELLA™ sessions you choose to undergo
The extent of your concerns
After Dr. Sepehr has the chance to evaluate you in a consultation, our office will be able to provide you with a personalized quote of your expenses. To ensure KYBELLA™ remains an affordable option for all of our patients, we work with CareCredit®. This leading plastic surgery financing company offers qualified applicants a variety of low- to no-interest payment plans to make the cost of treatment more manageable. Don't hesitate to contact our practice if you have any questions about CareCredit® or our accepted modes of payment.
Are There Alternative Options to KYBELLA™?
In certain cases, the appearance of a full chin and neckline is not a result of excess fatty deposits. Some individuals lack a visible distinction between their chin and neck, resulting in the look of a double chin that is simply caused by a undefined facial profile. For these situations, a chin implant may be an ideal solution to fulfill your cosmetic goals. Chin implantation is designed to improve the appearance of a recessed chin through careful and natural-looking augmentation. Depending on your unique needs, this can diminish fullness in the neckline by creating a more attractive contour where the neck meets the chin for a more pronounced chin and jawline.
For other patients, a neck lift may be a more appropriate option to obtain an enhanced neck appearance. Along with excess fat, loose skin tissue can also contribute to the look of an excessively full neck. Consequently, those with a buildup of excess neck skin will not see improvement with KYBELLA™, as the treatment is not designed to tighten or smooth lax skin tissue. For a double chin appearance caused by sagging neck skin, a neck lift can often provide the desired results more effectively by pulling the skin taut for a flatter look on the underside of the chin and a more youthful aesthetic overall.
Both a chin implant and a neck lift are surgical procedures that can provide extremely enduring results. While the natural aging process and its associated cosmetic changes will continue, these treatments are designed to be long-lasting enhancement solutions.
Have questions? We're here to help. Contact our practice today to learn more about KYBELLA™ or to schedule a consultation with Dr. Sepehr.