With time, the muscles of the neck often lose elasticity due to age and weight loss, while the skin becomes wrinkled from sun damage and other factors. This can create a buildup of sagging muscles and excess skin that may produce a heavy or wrinkled appearance—commonly referred to as a "turkey neck." Fortunately, Dr. Ali Sepehr can correct loose neck skin and musculature with neck lift surgery, a procedure designed to tighten and smooth the neck for a more youthful appearance. A neck lift from our extensively trained facial plastic surgeon can have significant aesthetic benefits and help you improve your entire facial profile with natural-looking results.
Please contact OC Facial Plastic Surgery to schedule a consultation for neck lift surgery at our practice.
Key Neck Lift Terms to Know
While Dr. Sepehr is available to answer any questions you may have about a neck lift, our team understands there are several terms patients may come across in their research that they may be unfamiliar with, including:
Platysmal banding: Vertical bands on the neck caused by contractions of the platysma, the most superficial muscle layer in the face.
"Turkey" neck: The appearance of loose, wrinkled, or accumulating skin in the neck region, causing an aged look.
Skin elasticity: The skin's ability to conform or "snap back" to a patient's new contours.
Submental: The region around the neck and below the chin.
When patients research the basic facts of neck lift surgery prior to their procedure, they generally have a better understanding of what can be accomplished with treatment. This can give Dr. Sepehr greater insight into your aesthetic goals, as well as help you achieve the highest levels of patient satisfaction after the neck lift procedure.
What Can a Neck Lift Accomplish?
A neck lift is capable of reclaiming the tight, youthful look in the neck that often diminishes as the skin and muscle lose their elasticity. The procedure is frequently utilized when patients do not show indications that a full facelift is necessary, but the lower face still appears aged. Neck lift surgery is also commonly combined with a facelift for individuals who desire the complete extent of rejuvenation. Depending on your needs, Dr. Sepehr can smooth your neck contour by:
Tightening skin laxity
Correcting muscle banding
Addressing other signs of neck aging
At OC Facial Plastic Surgery, Dr. Sepehr can improve a diverse range of aesthetic concerns in the lower face with treatment options including a neck lift, submental liposuction, and jawline contouring, among many other facial procedures. A consultation is usually the best way to determine the most optimal approach to achieve your goals.
Who is a Candidate for a Neck Lift?
A neck lift is designed to tighten the underlying muscles of the neck and eliminate excess skin, producing a much smoother and more youthful appearance. You may be a candidate for neck lift surgery if:
You have a buildup of excess skin or a loose muscle layer in the neck due to natural aging, weight loss, or other factors
You have neck musculature that is significantly lax and/or affected by excessive wrinkling of the neck skin
Those interested in surgery should also have realistic expectations for the procedure and be healthy enough to undergo the recovery period. Dr. Sepehr will evaluate your concerns and review your medical history during your consultation to confirm that a neck lift is the best treatment choice to help you achieve your goals.
Patient Results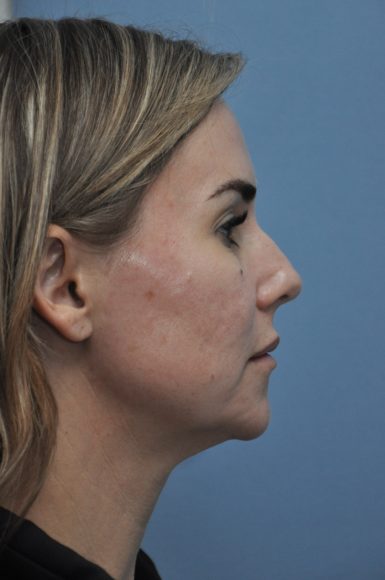 Before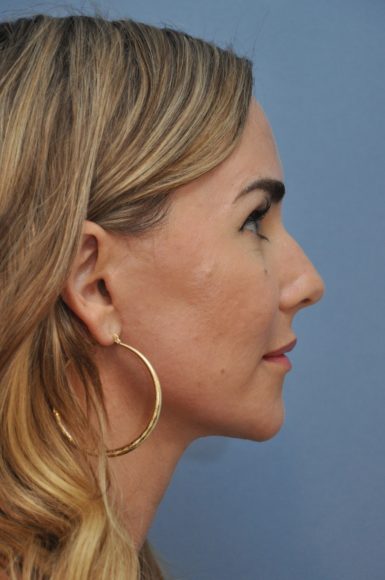 After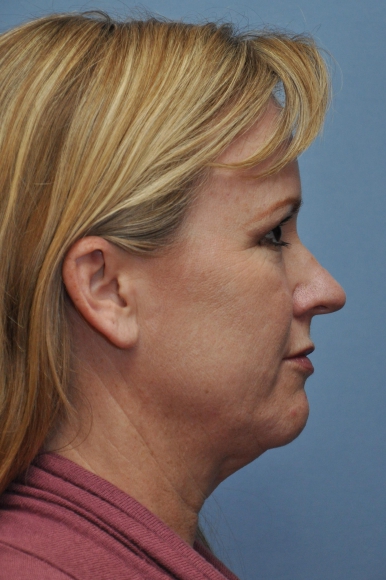 Before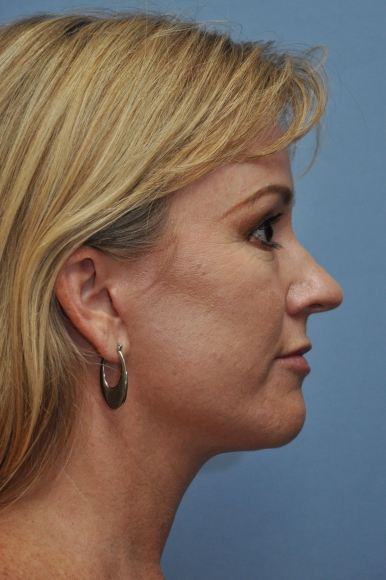 After
Neck Lift vs. Submental Liposuction Alone
A more defined facial profile can be achieved with both neck lift surgery and submental liposuction, but the best procedure for your goals will depend on your concerns and the unique qualities of your skin. Unlike submental liposuction, which focuses only on contouring excess submental fat, most patients who are candidates for a neck lift exhibit loose, sagging, or wrinkled skin in addition to possible excess fatty tissue. Descended musculature under the chin can also be an indication that a neck lift is more ideal for your needs.
On the other hand, many individuals would like to improve fullness in the neck or a "double chin"—these concerns can be treated with submental liposuction, a procedure designed to remove fat deposits through liposuction and achieve a slimmer look as well as a more visible jawline contour. However, submental liposuction can only provide effective results if you have good skin elasticity and tight musculature, so patients who struggle with sagging skin, loosened muscles, or excess fat may be more suited for neck lift surgery, which includes submental liposuction when indicated. This dual treatment can combine the benefits of both surgeries while only requiring the downtime of one procedure.
When Should I Consider a Neck Lift?
As the neck begins to age, skin laxity, fatty deposits, and muscle banding (commonly known as a "turkey wattle") can begin to develop. If these are concerns of yours, a neck lift from Dr. Sepehr can help you smooth, tighten, and rejuvenate this area with beautiful results. During your initial consultation, our skilled facial plastic surgeon will evaluate your needs, listen attentively to your goals, and develop a customized treatment plan based on your unique characteristics. He will also confirm that you are in good general health and understand what can be accomplished by your procedure of interest.
How is Neck Lift Surgery Performed?
The neck lift procedure begins with a well-hidden incision underneath the chin. The skin of the neck is elevated. Any extra fat is sculpted and excess skin is removed. The central edge of the muscles on both sides of the neck that have separated over time are brought back together to their youthful positioning, creating a corset-like effect. This is followed by incisions behind the ears, which allow access to the lateral edge of the same neck muscle that is tightened into its original positioning. This combination of interventions on the musculature creates a sling or hammock-like effect that tightens and tucks up the neck. The entire procedure usually takes about three hours to complete, unless it is combined with a facelift. Neck lift surgery is performed under general anesthesia and can be completed on an outpatient basis.
Did You Know?
The medical name for a neck lift is cervicoplasty.
What is the Neck Lift Recovery Period Like?
Some numbness, bruising, and swelling can be expected after neck lift surgery, but this will likely fade within 10-14 days with the help of a small drain and compression garment. Any pain and discomfort you experience after the procedure can be alleviated with medication. Many patients can return to normal daily routines about two weeks after neck lift surgery.
We know you're eager to show off your results, but patience during the healing process is essential to achieve the desired effect. Most patients find that they can return to their typical day-to-day activities after two weeks, although you should continue to abstain from weight lifting, contact sports, and swimming for another month.
How Long Will Results From a Neck Lift Last?
While it is impossible to stop the natural process of aging entirely, neck lift surgery can help restore a more youthful appearance to this area for many years. We encourage you to protect your skin from the sun and environmental damage by using high-quality products and avoiding behaviors—like smoking—that could affect the results. It's not unusual for the benefits of neck lift surgery to last as long as 10 years or more. Non-surgical cosmetic treatments like dermal fillers and laser skin resurfacing treatment can also help extend the outcome further, which we can discuss during your appointment.
Superb results, beyond my expectations.

Roger

July 07, 2018

12345
What Will My Scars From Neck Lift Surgery Look Like?
Dr. Sepehr understands that patients aim for as few indications of having cosmetic surgery as possible; with this goal in mind, he works to make incisions as inconspicuous as possible. Entry points are typically hidden behind each ear and, in many cases, a third incision will be made under the chin. Your treatment plan may call for just the incisions near the ears, just the incision under the chin, or all three. Dr. Sepehr will review the benefits of each approach with you. These marks should heal very well and become more or less unnoticeable. We also offer laser skin resurfacing to help further minimize the appearance of scars, if desired.
How Much Does a Neck Lift Cost?
The cost of a neck lift usually varies by plastic surgeon and across geographic locations. Your neck lift expenses will ultimately be determined by your unique needs and the complexity of your procedure. Our team will be able to provide a complete price breakdown after Dr. Sepehr evaluates your concerns in a consultation.
We accept plastic surgery financing through CareCredit®, a highly reputable healthcare lending company that can make the cost of a neck lift more affordable by allowing patients to pay for their treatment over a period of time. Once approved through the easy application process, CareCredit® offers a range of low- to no-interest payment plans so you can choose the option that is most ideal for your budgetary concerns. Please don't hesitate to contact our practice if you have any questions about the cost of a neck lift.
What are the Risks of a Neck Lift?
Similar to all cosmetic treatments and procedures, a neck lift involves its own risks that potential patients should assess before making a decision about surgery. While complications rarely occur, possible adverse outcomes from a neck lift may include a risk of infection, bleeding, poor reactions to the anesthesia, nerve damage, or contour irregularities. That said, the likelihood of negative side effects can be greatly minimized by selecting a board-certified facial plastic surgeon to perform your procedure. This credential indicates that a plastic surgeon has been trained and accredited in performing facial plastic surgery exclusively, often making them uniquely qualified to perform head and neck procedures like a neck lift. Dr. Sepehr will be sure to review the benefits and limitations of a neck lift with you before surgery so you can make a fully informed choice about your safety and appearance.
Can I Get a Neck Lift Without Surgery?
Although not considered a true alternative to a neck lift, KYBELLA® double chin reduction can be used to reduce excess fat under the chin, providing effective results as long as there is little to no excess skin. Submental fat, commonly called a "double chin," is often a concern for many people. KYBELLA® is an innovative non-surgical injectable that is designed to specifically reduce fatty tissue in this hard-to-treat area. The results can be very long-lasting and natural-looking. If you maintain your weight, retreatment may not be necessary. KYBELLA® can also be combined with fillers to the jawline, a combination of treatments that can better define the jawline and improve the neck contour. Dr. Sepehr can discuss this "non-surgical neck lift" option with you during your initial consultation. If you have loose platysmal bands, significant skin laxity, or a combination of these common issues, neck lift surgery may be more effective. This minimally invasive treatment can also be pursued as a possible supplementary procedure to a neck lift.
Are There Any Neck Lift Alternatives?
While there is no alternative to neck lift surgery that can tighten loose skin under the chin, a facelift may be a better treatment choice if skin laxity is more concentrated in the cheeks or lower face. If your goals involve obtaining a sharper, more defined jawline, Dr. Sepehr can also develop a jawline contouring treatment plan to improve the region around the chin and neck.
Alternatively, neck lift can be complemented with a facelift for a complete makeover that rejuvenates the entire look of the face. As the face typically ages in tandem with the neck, loose facial skin and the appearance of jowls around the jawline are aesthetic concerns shared by many patients. A combination facelift and neck lift surgery can comprehensively address these key signs of age, smoothing the entire facial appearance and helping men and women look as young as they feel. Dr. Sepehr can meet with you in an initial consultation to discuss all aspects of neck lift surgery and how it may be the best option for your enhancement goals.
Choosing the Best Neck Lift Surgeon for Your Needs
Selecting the best person to perform your neck lift will likely be the most important decision you make throughout the entire process. While this can make the research process seem intimidating, our team has offered several tips to help you learn what to look for in a top plastic surgeon and hopefully narrow down your options: 
Enlist a facial plastic surgeon: If you're considering a facial procedure, be sure to choose a facial plastic surgeon to perform your surgery. Unlike general cosmetic surgeons, a facial plastic surgeon has undergone specialized training in face procedures and can achieve the highest quality of results. 
Research credentials and qualifications: On top of learning about a facial plastic surgeon's educational background and training, it's also in your best interest to ensure your doctor is certified by the American Board of Facial Plastic & Reconstructive Surgery (ABFPRS). Dr. Sepehr has not only been awarded this accreditation, he is also double board-certified by ABFPRS and the American Board of Otolaryngology – Head and Neck Surgery (ABOTO).
Read patient reviews and testimonials: Online reviews provide insight into another person's experience, often giving you some idea of a doctor's quality of care. Read feedback from online review channels to learn more about patient satisfaction, the practice, and the entire treatment process.
See before-and-after photos: Ultimately, the results achieved with previous patients are a very telling indication of what you can expect from the outcome of neck lift surgery. Make sure you like a plastic surgeon's portfolio and previous work before scheduling a consultation to move forward with the procedure.
The only way to truly determine the best plastic surgeon for your needs is to schedule a consultation with a qualified facial plastic surgeon, and to assess whether you feel confident in his/her ability to achieve your goals. The first appointment is a great opportunity for you to establish a rapport with a prospective surgeon, which should help guide your decision throughout the entire process.
Complements to Neck Lift Surgery
A neck lift can beautifully smooth and tighten the lower face, but there are also adjunctive options and similar treatments that can further enhance the results of neck lift surgery. Some patients also struggle with excess fat in the neck region in addition to excess skin. If you're concerned with a "double chin" or fullness in the submental area, Dr. Sepehr can develop a personalized jawline contouring plan to give you the sleeker, sharper look you desire. Jawline contouring techniques range from using non-surgical injectables to add volume to slimming the face with neck liposuction or even placing a custom chin implant. This variety gives Newport Beach patients the opportunity to achieve their goals with a completely personalized treatment tailored to their unique desires. Dr. Sepehr would be happy to offer solutions to resculpt your neck contour after evaluating your needs in a consultation.
Additional Neck Lift FAQs
Can I get a neck lift without a facelift?
Yes, your treatment plan will be completely personalized to address your unique needs and concerns; therefore, Dr. Sepehr can perform neck lift surgery alone if you do not show significant signs of aging above the neck, or if you simply are not ready for a facelift. That said, there are some situations in which a neck lift is best complemented with a facelift to achieve a natural-looking, cohesive outcome. Dr. Sepehr can provide guidance on the best treatment options for your needs in a consultation.
How long will swelling last after a neck lift?
Most swelling and bruising should subside within two weeks of your neck lift, although it may take a few months for all swelling to fully resolve. Dr. Sepehr will provide a compression garment after your procedure, which should help decrease inflammation and shape your facial contours. To accelerate the healing process, we recommend limiting salt intake and refraining from smoking. A healthy diet consisting of leafy greens, fruit, veggies, and protein can also help reduce swelling after surgery.
When can I exercise again after a neck lift?
Every patient heals at a different rate, but you should generally avoid exercise and strenuous activity for two to six weeks. Dr. Sepehr will be able to give you a more accurate timeline as he checks on your progress during your follow-up appointments.
Will insurance cover neck lift surgery?
Since a neck lift is considered a cosmetic procedure, insurance typically does not provide coverage for the costs of surgery. However, the flexible financing plans from CareCredit® can make out-of-pocket costs more affordable for qualified patients. If you would like to learn more about our financing options at OC Facial Plastic Surgery, a member of our team would be happy to answer your questions.
How can I prolong my neck lift results?
The outcome of a neck lift is designed to be long-term, but it cannot stop the aging process from affecting the skin and face. Fortunately, there are many treatments available at our Newport Beach practice for non-surgical cosmetic enhancement. Facial rejuvenation services like laser skin resurfacing can help minimize wrinkles and mild skin laxity as you get older, while our medical-grade skin care products can be utilized to nourish your skin and slow down the aging process.
When can I return to work following neck lift surgery?
Depending on the nature of your job, you can generally return to work within one to two weeks if your duties include office work or other non-strenuous activities. Physically intensive or demanding work duties may require two to six weeks of downtime before you can safely assume your responsibilities again. Dr. Sepehr will be able to discuss this more with you when he meets you during your consultation.
Contact us today for more information on neck lift surgery, or to schedule a consultation with Dr. Sepehr.