Eyelid Surgery
The eyes are the most expressive feature of the face, and the upper and lower eyelids have a large effect on the appearance of the eyes. Blepharoplasty (eyelid surgery) is an effective facial plastic surgery procedure that has the potential to dramatically affect our facial appearance and make us look more youthful and rested.
Learn About Our Laser Upper Eyelid Lift Pre and Post-Procedure Requirements, Click Here
Please contact The OC Center for Facial Plastic Surgery to schedule a consultation for eyelid surgery (blepharoplasty).
Eyelid Surgery Candidates
If the eyelids are stretched, wrinkled, or baggy, the eyes can appear tired and older. Patients sometimes desire improvement in the upper eyelids, lower eyelids, or both. Similarly, upper and lower blepharoplasty can be performed separately or together. These surgeries are designed to remove excess skin (wrinkling) and fat (puffiness) and lead to wider, brighter eyes, which convey youth and alertness and more accurately reflects one's vigor and energy level. You may be a candidate for eyelid surgery if:
You have excess skin or fat in the upper or lower eyelids
You have vision problems secondary to excessive skin on the upper eyelids
You have laxity of the lower eyelids and desire a tightening procedure
>>DID YOU KNOW?
Blepharoplasty was the 3rd most popular surgical cosmetic procedure performed in 2010.
Upper Blepharoplasty
If stretched or wrinkled skin is the only aesthetic issue you are experiencing around the eyes, then an upper blepharoplasty alone can yield a great result. During your consultation, our board certified facial plastic surgeon, Dr. Ali Sepehr, will lift your forehead subtly to the appropriate level with his hands. If that has little or no beneficial effect on the upper eyelids, then upper blepharoplasty may be all that you need. If all of the redundant skin disappears completely, then all you may need is a brow lift. If it does improve the upper eyelid appearance but redundant skin still remains, then a combination of both procedures may be recommended.
Upper blepharoplasty typically takes approximately one hour. The surgery involves placing well-hidden incisions in the natural crease of the upper eyelid to make them nearly invisible after healing. Excess skin and protruding fat are removed and the incisions are closed with fine sutures to further minimize the visibility of the scar. Healing time is minimized by delicate surgical technique.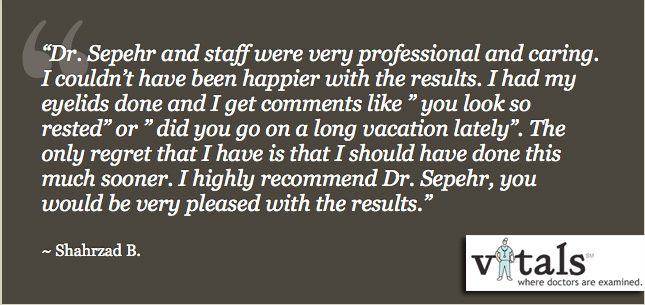 Lower Blepharoplasty
Our eyes are surrounded by fat which permit our eyes to move freely. This fat is kept within the eye socket by the "orbital septum" which acts as a retaining wall. Over time, the orbital septum weakens and allows the fat to protrude, producing puffy lower eyelid bags. These lower eyelid bags cast a shadow leading to dark circles.
Lower blepharoplasty typically takes approximately one hour. Patients are candidates for one of two approaches depending on their anatomy and their specific indication for the surgery: either from inside the eyelid or through the skin on the outer surface of the eyelid. In some patients, lower eyelid puffiness can be treated through an incision inside the eyelid used to remove the bulging fat. The lower eyelids can also have some excess skin and this can be treated in a variety of ways, including a little skin pinch excision or skin resurfacing with laser or chemical peel, which both cause tightening of the skin. Dr. Sepehr will carefully evaluate each patient to determine the best procedure.
Recovery
There is minimal pain after this type of procedure. In fact, patients typically only feel tired and want to rest the eyes. Some tightness or pressure sensation is normal and can be easily treated with pain medications. The eyelid tissues are very delicate, so any little irritation causes significant swelling. However, since that swelling was caused by very little manipulation, it also resolves very quickly. On average it takes ten days for the bruising to fade. It is normal to have some blurry vision due to the hydrating ointment.
Of note: if the upper eyelid skin begins to rest on the upper eyelashes and obstruct vision, the surgery may be covered under insurance. This functional deficit may need to be documented.
*Individual Results May Vary
Frequently Asked Questions (FAQs)
What is blepharoplasty?
Blepharoplasty, or eyelid surgery, is a procedure designed to improve the appearance of the eyelids and surrounding areas. A qualified plastic surgeon can perform this type of surgery on the upper or lower eyelids, depending on what the patient would like to enhance. The most common reason blepharoplasty is performed is to treat sagging skin, puffiness, drooping or baggy eyelids, excess skin, and/or wrinkles around the eyelids.
How is eyelid surgery performed?
After discussing your aesthetic goals in a consultation, Dr. Sepehr will create a custom treatment plan tailored to address your needs. Once Dr. Sepehr determines if intravenous sedation or general anesthesia is best for you, he will begin the procedure. Excess skin will be removed, fatty tissue may be repositioned, and drooping skin may be tightened or trimmed. Depending on the complexity of your procedure, it may take one to three hours from start to finish. Patients should be able to return home after the procedure.
Will I have visible scars?
Dr. Sepehr has extensive training and experience and will do what he can to limit residual scarring. The incisions from your surgical procedure may be visible immediately following the operation, but once healed, any scars should be virtually unnoticeable.
What age is best to have eyelid surgery?
There is no perfect age to have blepharoplasty, but our patients are typically 35 years or older. Every person has unique factors that make them qualified for eyelid surgery, which may include the effects of the natural aging process or inherited genetics. If you think this procedure could help you achieve your cosmetic goals, please contact us to schedule a consultation. Then, we can review your medical history and evaluate your needs to determine if this procedure can benefit you.
Can blepharoplasty help dark circles or under-eye hollows?
When the lower eyelid begins to sag, it can cast a shadow, leading to dark under-eye circles. If fat in the cheek is pushing up towards the eye, Dr. Sepehr can reposition the fat and fill the under-eye area that is lacking volume. A lower eyelid procedure may be right for you if you have noticed any of these signs.
Will my insurance cover this procedure?
Most health insurance will not cover cosmetic surgery. However, when this procedure is performed to remove excess skin that is covering the eyelashes, some costs may be covered by your insurance company. This is most common if the tissue folds over the eye and is causing obstructed vision. It is best to contact your insurance company to have a clear understanding of what they will or will not cover.
What is recovery after blepharoplasty like?
After you return home from your surgery, Dr. Sepehr recommends prioritizing your recovery process. Most patients find simply resting their eyes after the procedure to be helpful, but you will also want to elevate your head as much as possible for the first few days following your procedure. If you experience any soreness or tightness in the eye area, don't worry, these are normal effects. There may be swelling or bruising in the surgery area, but using a cold compress can often reduce these discomforts. An oral medication may also be prescribed to help manage potential pain. It is best to avoid the use of contact lenses for at least two weeks following your procedure, and strenuous exercise should be postponed for at least three weeks.
How long should I wait until I return to work?
Many of our patients return to their jobs within 10 days of their procedure, as that is when the majority of the swelling and bruising typically have diminished. However, everyone heals at different rates, so be sure listen to your body and to Dr. Sepehr's recommendations in terms of when may be the best time to resume normal daily routines.
When will I see my results?
Patients can usually see improvement soon after surgery. Full blepharoplasty results are often seen several weeks or months after the procedure was initially performed. By following Dr. Sepehr's recovery plan, swelling and bruising should gradually decrease. Throughout your recovery, our medical staff can answer any questions you may have about this process.
How long will my results last?
Results from our blepharoplasty procedures can typically last 10-15 years, provided you care for the skin around your eyes. This can be done by applying sunscreen daily, avoiding smoking, and moisturizing your skin as needed. It is possible that other lifestyle choices or genetic predispositions may affect your results as well.
Please contact Dr. Ali Sepehr for more information on blepharoplasty (eyelid surgery).