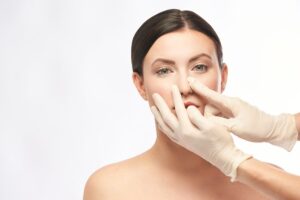 A bump or hump along the bridge of the nose is one of the most common concerns patients seek to improve when considering facial plastic surgery. Often considered a longheld insecurity for most individuals, a nasal bump can be present at birth or develop throughout childhood and puberty. In both cases, these nasal contour irregularities can disrupt symmetry, throw off facial proportions, and generally reduce balance between the facial features. Living with noticeable bumps in the nasal bridge can be frustrating, but men and women in Newport Beach can feel reassured that effective treatments exist to help smooth humps and improve other perceived imperfections in the nose. Depending on your desires and expectations for the outcome, Dr. Ali Sepehr — our skilled double board-certified facial plastic surgeon — offers surgical and non-surgical techniques to reclaim facial harmony: 
Rhinoplasty: Nose surgery is the premier treatment to permanently enhance the framework of the nose, providing patients with results designed to last a lifetime. Not only can humps be removed to restore a smooth contour in the nasal bridge, but Dr. Sepehr can also perform rhinoplasty to adjust the nasal tip, nostrils, septum, and other structures to improve facial balance/breathing problems at large. 
Fillers: For those who are interested in treatment prior to a special event or occasion, dermal fillers like JUVÉDERM® and Restylane® can also straighten the nasal bridge to provide a "liquid rhinoplasty" to some extent. JUVÉDERM® and Restylane® fillers are composed of hyaluronic acid, a naturally occurring substance injected to enhance volume in the areas of treatment. Depending on the nature of your concerns, fillers can be injected to temporarily smooth bumps in the nose and give you a more symmetrical look. While effective for two to three months, fillers cannot obtain a long-term improvement like a surgical rhinoplasty.  
Dr. Sepehr understands that bumps and humps along the nasal bridge can hinder self-confidence for patients of all ages. Fortunately, treatments are available to restore a smooth contour along the nose and give you a greater sense of facial balance. Contact OC Facial Plastic Surgery today to discuss your concerns in a consultation with our double board-certified facial plastic surgeon.