Complementing Eyelid Surgery with a RadiaLift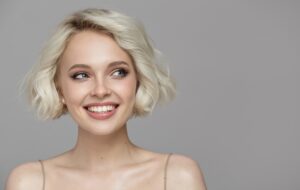 Blepharoplasty, or eyelid surgery, has been a versatile and effective solution to treat signs of aging around the eyes for decades. As a treatment capable of correcting puffiness, eyelid skin laxity, and "hooding," blepharoplasty can brighten and refresh the upper face with subtle and beautiful results. That said, eyelid surgery performed in isolation by other plastic surgeons often has its limitations regarding the quality of the final results. This method provides a relatively narrow-scoped approach when compared to more modern techniques, which should seek to consider the face as a whole when treating aesthetic concerns. For this reason, Dr. Ali Sepehr — our double board-certified facial plastic surgeon — developed RadiaLift to address the limitations that a standalone blepharoplasty procedure cannot. 
If Dr. Sepehr believes your concerns are well-suited to address with a combined treatment plan, he may recommend complementing your eyelid surgery with a RadiaLift. RadiaLift allows Dr. Sepehr to more comprehensively treat signs of aging across all vectors, rather than just across one dimension of the face. With a RadiaLift incorporating blepharoplasty, this surgical plan offers: 
Rejuvenation that takes your surrounding facial features into account, resulting in a more holistic result
Treatment mirroring the natural, rotational pattern in which facial aging takes place
Enhancement that considers the unique highlights, shadows, and contours of your face
Visible improvement in other facial features as well (not just the eyes)
Dr. Sepehr can conduct a complete evaluation of the face and neck to formulate an optimal treatment plan for your goals while helping to ensure results appear as organic, natural, and long-lasting as possible. For some patients, combining blepharoplasty with a RadiaLift can be the best way to maximize the integrity of facial plastic surgery outcomes. 
Dr. Ali Sepehr is the premier facial plastic surgeon to pioneer the RadiaLift technique and can help Newport Beach patients achieve more harmonious, lasting, and radiant results with facial plastic surgery. Contact OC Facial Plastic Surgery for additional information on a RadiaLift or to book an appointment at our office.