Irvine Facial Plastic Surgeon Now Offering JUVÉDERM VOLBELLA® for Lip Enhancement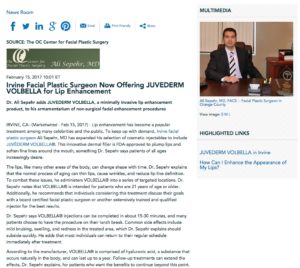 Dr. Ali Sepehr adds JUVÉDERM VOLBELLA®, a minimally invasive lip enhancement product, to his armamentarium of non-surgical facial enhancement procedures.
Irvine, CA — Lip enhancement has become a popular treatment among many celebrities and the public. To keep up with demand, Irvine facial plastic surgeon Ali Sepehr, MD has expanded his selection of cosmetic injectables to include JUVÉDERM VOLBELLA®. This innovative dermal filler is FDA-approved to plump lips and soften fine lines around the mouth, something Dr. Sepehr says patients of all ages increasingly desire.
The lips, like many other areas of the body, can change shape with time. Dr. Sepehr explains that the normal process of aging can thin lips, cause wrinkles, and reduce lip line definition. To combat these issues, he administers VOLBELLA® into a series of targeted locations. Dr. Sepehr notes that VOLBELLA® is intended for patients who are 21 years of age or older. Additionally, he recommends that individuals considering this treatment discuss their goals with a board certified facial plastic surgeon or another extensively trained and qualified injector for the best results.
Dr. Sepehr says VOLBELLA® injections can be completed in about 15-30 minutes, and many patients choose to have the procedure on their lunch break. Common side effects include mild bruising, swelling, and redness in the treated area, which Dr. Sepehr explains should subside quickly. He adds that most individuals can return to their regular schedule immediately after treatment.
According to the manufacturer, VOLBELLA® is comprised of hyaluronic acid, a substance that occurs naturally in the body, and can last up to a year. Follow-up treatments can extend the effects, Dr. Sepehr explains, for patients who want the benefits to continue beyond this point. He says other dermal fillers may also be effective for lip enhancement, as well as more comprehensive facial rejuvenation, and these options can be discussed during the initial consultation.
About Ali Sepehr, MD
Certified by the American Board of Facial Plastic Surgery and fellowship-trained, Dr. Ali Sepehr is also a Diplomate of the National Board of Medical Examiners. He earned his medical degree at the University of California, Irvine and completed additional medical training at the University of Toronto School of Medicine. The recipient of numerous awards. Dr. Sepehr also dedicates much of his time to outreach programs, including the UCLA School of Medicine Mobile Clinic, the Salvation Army Mobile Clinic, and the Lennox High School Health Fair. He is available for interview upon request.
For more information about Dr. Sepehr and his practice, please visit orangecountyfacialplasticsurgery.com and facebook.com/ocfacialplastics.
Contact:
OC Facial Plastic Surgery – Ali Sepehr, MD
360 San Miguel Dr Suite 409
Newport Beach, CA 92660
(949) 371-6963
Rosemont Media
(858) 200-0044
www.rosemontmedia.com