Newport Beach Facial Plastic Surgeon Offers Surgical and Non-Surgical Rhinoplasty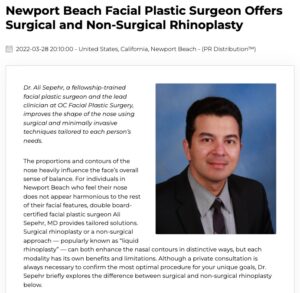 Dr. Ali Sepehr, a fellowship-trained facial plastic surgeon and the lead clinician at OC Facial Plastic Surgery, improves the shape of the nose using surgical and minimally invasive techniques tailored to each person's needs.
Newport Beach, CA — The proportions and contours of the nose heavily influence the face's overall sense of balance. For individuals in Newport Beach who feel their nose does not appear harmonious to the rest of their facial features, double board-certified facial plastic surgeon Ali Sepehr, MD provides tailored solutions. Surgical rhinoplasty or a non-surgical approach — popularly known as "liquid rhinoplasty" — can both enhance the nasal contours in distinctive ways, but each modality has its own benefits and limitations. Although a private consultation is always necessary to confirm the most optimal procedure for your unique goals, Dr. Sepehr briefly explores the difference between surgical and non-surgical rhinoplasty below.
Rhinoplasty has been acclaimed as an effective nose contouring surgery for many decades. Sometimes referred to as a "surgery of millimeters," rhinoplasty can address any aspect of the nose — including the nasal bridge, tip, cartilage, septum, or nostrils — to achieve subtle, yet powerful improvements and lifetime results. In general, rhinoplasty can be an excellent procedure for men and women who want a long-term outcome, or who may require more complex enhancements to the nasal framework than can be completed without surgery. Additionally, if you have trouble breathing and would like to fix a deviated septum, nasal surgery is often the most ideal technique. That said, there are many patients who wish to improve their nose, but who may not be ready for a surgical procedure.
At the forefront of Dr. Sepehr's non-surgical treatments is "liquid rhinoplasty," a method of temporarily contouring the nose using a selection of dermal fillers. This can straighten humps and bumps in the nasal bridge, as well as create a more attractive contour without surgery, anesthesia, incisions, or recovery time. Results typically last several months to one year depending on the type(s) of fillers utilized. Non-surgical rhinoplasty can be an effective treatment for patients who wish to avoid surgery or who want to look their best before a special occasion. It's important to remember that the improvements possible with liquid rhinoplasty are more limited in scope when compared to surgical rhinoplasty. Therefore, a surgical procedure is often necessary to achieve the best quality results.
About Ali Sepehr, MD
Dr. Ali Sepehr is a facial plastic surgeon double board-certified by the American Board of Facial Plastic and Reconstructive Surgery (ABFPRS). At OC Facial Plastic Surgery, Dr. Sepehr specializes in procedures such as facelift surgery, rhinoplasty, revision rhinoplasty, and jawline contouring, among other facial rejuvenation options. His background includes a prestigious aesthetic fellowship completed at the University of Toronto, as well as membership to the Alpha Omega Alpha Honor Medical Society, which only admits the top four percent of doctors in the country. In addition to being the lead facial plastic surgeon at his Newport-based practice, Dr. Sepehr also teaches fellows, residents, and medical students at the University of California Irvine Medical Center and the Veteran Affairs Hospital. Dr. Sepehr is available for interview upon request.
Contact:
OC Facial Plastic Surgery – Ali Sepehr, MD
360 San Miguel Drive, Suite 409
Newport Beach, CA 92660
Rosemont Media
(800) 491-8623
www.rosemontmedia.com