Home/Blog / Newport Beach Plastic Surgeon Explains How to Attain a Sharper Jawline With Advanced Neck Contouring Techniques
Newport Beach Plastic Surgeon Explains How to Attain a Sharper Jawline With Advanced Neck Contouring Techniques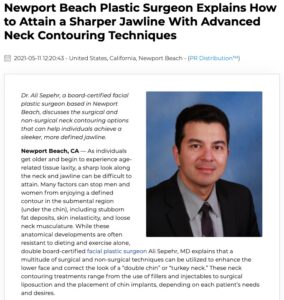 Dr. Ali Sepehr, a board-certified facial plastic surgeon based in Newport Beach, discusses the surgical and non-surgical neck contouring options that can help individuals achieve a sleeker, more defined jawline.
Newport Beach, CA — As individuals get older and begin to experience age-related tissue laxity, a sharp look along the neck and jawline can be difficult to attain. Many factors can stop men and women from enjoying a defined contour in the submental region (under the chin), including stubborn fat deposits, skin inelasticity, and loose neck musculature. While these anatomical developments are often resistant to dieting and exercise alone, double board-certified facial plastic surgeon Ali Sepehr, MD explains that a multitude of surgical and non-surgical techniques can be utilized to enhance the lower face and correct the look of a "double chin" or "turkey neck." These neck contouring treatments range from the use of fillers and injectables to surgical liposuction and the placement of chin implants, depending on each patient's needs and desires.
According to Dr. Sepehr, the different approaches to jawline contouring may involve enhancing the structure of the lower face and jawline, or resculpting the submental region. Whether your concerns include a lack of facial proportion, an accumulation of excess fat, poor skin tone, or a combination of all three can generally determine the most effective approach to achieve your goals. In any case, Dr. Sepehr explains that each method of facial rejuvenation can utilize a surgical or non-surgical treatment option, although the best results are usually achieved with a combination of both modalities.
For some patients, the facial profile may be compromised by a recessed chin and/or mild jowling. This generally indicates that enhancing the framework of the jaw through a combination of chin implants and dermal fillers might be the best course of action. A custom chin implant can provide a more dominant facial profile as well as an improved sense of proportion, often having the effect of balancing out a large or prominent nose. Paired with non-surgical injections of a volume-enhancing facial filler, patients can highlight the youthful angles of the lower face while addressing mild jowling along the jawline.
In other cases, the lower jaw may be obscured by excess fullness or localized fat in the neck. If the quality of the skin in the submental area is otherwise sufficient, neck liposuction can be a simple technique to remove isolated fat deposits from under the chin, revealing a slimmer and more sculpted facial appearance. With minimally invasive injections of KYBELLA® — an FDA-approved treatment for double chin reduction— performed in addition to or in lieu of submental liposuction, patients can achieve long-term neck and jawline contouring results.
Ultimately, Dr. Sepehr emphasizes that a personal consultation with a qualified facial plastic surgeon is necessary to help individuals parse through the myriad of treatment options at their disposal. This initial appointment allows patients to discuss their concerns and obtain the best possible treatment plan based on a definitive evaluation of their needs and anatomical indicators.
About Ali Sepehr, MD
Dr. Ali Sepehr is a double board-certified and fellowship-trained facial plastic surgeon who specializes in cosmetic procedures, such as a facelift, blepharoplasty, and rhinoplasty, among other treatment options. In addition to performing aesthetic procedures at OC Facial Plastic Surgery, Dr. Sepehr also works to educate medical students and residents from the University of California Irvine Medical Center. He is a member of many national professional organizations, including the American Academy of Facial Plastic and Reconstructive Surgery and the Alpha Omega Alpha Honor Medical Society, which only admits the top four percent of doctors in the country. Dr. Sepehr is available for interview upon request.
For more information about Dr. Sepehr and his practice, please visit orangecountyfacialplasticsurgery.com and facebook.com/ocfacialplastics.
Contact:
OC Facial Plastic Surgery – Ali Sepehr, MD
360 San Miguel Drive, Suite 409
Newport Beach, CA 92660
Rosemont Media
(800) 491-8623
www.rosemontmedia.com