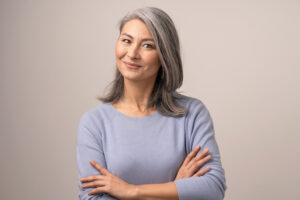 With the ability to comprehensively revitalize the facial tissues, the outcome of a facelift can be incredibly transformative — particularly for patients who receive a Lifelong Lift™, which is a specialized facelift procedure that works within the deeper facial layers to yield even more enduring results when compared to standard techniques. Many of our patients in Newport Beach inquire about everyday measures they can take to further prolong the rejuvenation from their facelift. While surgery does not halt the natural aging process, the following tips can be very effective non-surgical solutions to help protect the quality of your enhancement:
Wear sun protection to avoid premature aging. It's no secret that the sun's UV rays can accelerate facial aging and adversely affect the tone and texture of your skin. Be sure to apply a 30+ SPF sunscreen every day and protect your skin whenever outdoors by wearing hats, sunglasses, etc.
Stick to a healthy, vitamin-rich diet. The types of meals you eat can influence your ability to maintain a healthy, vibrant complexion, so try to incorporate rejuvenating foods that are replete in vitamins C, E, A, and B into your diet.
Don't smoke. Not only does smoking interfere with the body's natural healing process, but the nicotine and chemicals in cigarettes have been known to age and dry out the skin. To keep your face looking as full, healthy, and youthful as possible, it's necessary to refrain from smoking.
Use high-quality skin care products. Medical-grade serums and creams have the power to keep your complexion smooth and hydrated while repairing the skin conditions known to exacerbate facial aging, such as wrinkles, sun damage, hyperpigmentation, and rosacea, among other common concerns.
When the time comes, OC Facial Plastic Surgery offers a broad range of non-surgical treatments designed to improve loose skin, wrinkles, creases, and other signs of facial aging without surgery. These med spa options include laser skin resurfacing and facial fillers, among other powerful treatments to further extend the longevity of your facelift.
Don't hesitate to contact our Newport Beach practice if you have any questions, or if you would like to schedule an appointment for one of our many facial rejuvenation services.