Facial Plastic Surgeon in Orange County Answers Common Rhinoplasty Questions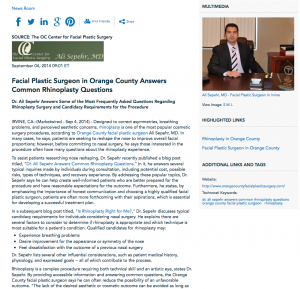 Dr. Ali Sepehr answers some of the most frequently asked questions regarding rhinoplasty surgery and candidacy requirements for the procedure.
Irvine, CA—Designed to correct asymmetries, breathing problems, and perceived aesthetic concerns, rhinoplasty is one of the most popular cosmetic surgery procedures, according to Orange County facial plastic surgeon Ali Sepehr, MD. In many cases, he says, patients are seeking to reshape the nose to improve overall facial proportions; however, before committing to nasal surgery, he says those interested in the procedure often have many questions about the rhinoplasty experience.
To assist patients researching nose reshaping, Dr. Sepehr recently published a blog post titled, "Dr. Ali Sepehr Answers Common Rhinoplasty Questions." In it, he answers several typical inquiries made by individuals during consultation, including potential cost, possible risks, types of techniques, and recovery experience. By addressing these popular topics, Dr. Sepehr says he can help create well-informed patients who are better prepared for the procedure and have reasonable expectations for the outcome. Furthermore, he states, by emphasizing the importance of honest communication and choosing a highly qualified facial plastic surgeon, patients are often more forthcoming with their aspirations, which is essential for developing a successful treatment plan.
In a subsequent blog post titled, "Is Rhinoplasty Right for Me?," Dr. Sepehr discusses typical candidacy requirements for individuals considering nasal surgery. He explains there are several factors to consider to determine if rhinoplasty is appropriate and which technique is most suitable for a patient's condition. Qualified candidates for rhinoplasty may:
Experience breathing problems
Desire improvement for the appearance or symmetry of the nose
Feel dissatisfaction with the outcome of a previous nasal surgery
Dr. Sepehr lists several other influential considerations, such as patient medical history, physiology, and expressed goals – all of which contribute to the process.
Rhinoplasty is a complex procedure requiring both technical skill and an artistic eye, states Dr. Sepehr. By providing accessible information and answering common questions, the Orange County facial plastic surgeon says he can often reduce the possibility of an unfavorable outcome. "The lack of the desired aesthetic or cosmetic outcome can be avoided as long as you have good rapport with your facial plastic surgeon and feel comfortable that he has listened to all of your concerns and has a clear picture of your desired outcome/result."
About Ali Sepehr, MD
A graduate of the University of California, Los Angeles School of Medicine, Dr. Sepehr is a fellowship-trained, board-certified facial plastic surgeon. In addition to actively participating in several esteemed medical organizations, including the American Academy of Facial Plastic and Reconstructive Surgery and the National Board of Medical Examiners, he has authored several chapters in textbooks and scientific papers featured in numerous facial plastic surgery journals. When not at his practice, Dr. Sepehr educates fellows, residents and medical students at the University of California, Irvine in the latest facial plastic surgery techniques. Dr. Sepehr is available for interview upon request.
For more information on Dr. Sepehr and his practice, please visit orangecountyfacialplasticsurgery.com or facebook.com/ocfacialplastics.com
Contact:
OC Facial Plastic Surgery – Ali Sepehr, MD
360 San Miguel Dr Suite 409
Newport Beach, CA 92660
(949) 371-MYMD (6963)
Rosemont Media
[email protected]
(858) 200-0044
www.rosemontmedia.com