Dr. Ali Sepehr Responds to Frequently Asked Questions About Neck Lift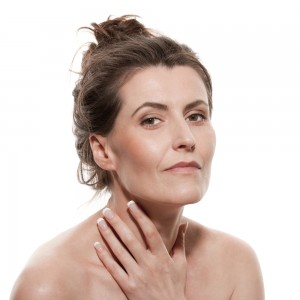 Designed to tighten and remove excess skin and fat on the neck, many patients begin to consider neck lift surgery as age, weight loss, sun damage, and other factors cause the skin's natural elasticity to weaken. As a result of these effects, the neck can often develop a sagging, wrinkled appearance sometimes referred to as "turkey neck." Dr. Ali Sepehr, our highly skilled facial plastic surgeon, performs neck lift surgery using advanced techniques to help reduce wrinkles and smooth skin below the chin and jawline, and to create a firmer, more youthful aesthetic. To help inform patients researching neck lift, Dr. Sepehr recently answered a number of common questions about the procedure.
If you would like additional information about neck lift surgery, or if you wish to schedule a consultation with Dr. Sepehr, please contact us today.
Q. Who makes a good candidate for a neck lift?
Dr. Sepehr: A good neck lift candidate has drooping or sagging skin (sometimes called turkey neck or turkey wattle), fat deposits below the chin (double chin), or a desire for a more defined jawline. Other considerations include your current health and expectation for results.
Q. How is a neck lift performed?
Dr. Sepehr: A patient-centered neck lift is performed under general anesthesia. A small incision is created below the chin, through which the tough muscle layer under the skin (SMAS) is lifted. The excess skin is removed, and liposuction may be performed to reduce excess fat and create a more sculpted appearance. The incision is then closed with no tension for a natural-looking result.
Q. Can liposuction be performed in place of or in conjunction with a neck lift? Why or why not?
Dr. Sepehr: Liposuction is usually routinely performed in conjunction with a neck lift, because the excess skin and fat are commonly present together. When there is just excess fat by itself in a young person with good skin elasticity, liposuction alone may yield the desired result, because the skin will likely contract after fat removal.
Q. Can I have other facial treatments (i.e. facelift) at the same time?
Dr. Sepehr: Yes. Because the muscle layer that droops and is lifted in the neck is the same as the one that droops and is lifted in the lower face, people usually get sagging and drooping in both areas. Together, the two procedures yield the most natural results. Neck lift can also be combined with a chin augmentation. Additionally, to combine anesthesia and healing periods, whenever someone has sagging or drooping eyelids or eyebrows, it is in the individual's best interest to do an upper blepharoplasty (eyelid surgery), lower eyelid lift, and brow or forehead lift at the same time.
Q. Are there risks or complications with the neck lift?
Dr. Sepehr: Every surgical procedure carries some risk; however, the risks during neck lift surgery are generally small. Anesthesia complications are rare. Infection, bleeding, scars, lumpiness, and a crooked smile are potential effects, though they occur very infrequently.
Q. What will I need to do following the procedure?
Dr. Sepehr: Follow all instructions provided by the doctor very closely. Some examples of typical requests include: rest, utilize cool compresses, keep incisions moist and clean with hydrogen peroxide and ointment, maintain a soft food diet, and elevate the head. Additionally, make sure you have chosen a facial plastic surgeon that listens to your concerns and is easy to communicate with.
Contact Us
For more information about our neck lift procedure or to schedule a consultation with Dr. Sepehr, please contact our office today.