Home/Blog / Orange County Facial Plastic Surgeon on Cartilage Strengthening Technique for Long-Lasting Results
Orange County Facial Plastic Surgeon on Cartilage Strengthening Technique for Long-Lasting Results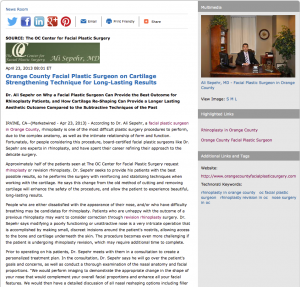 Dr. Ali Sepehr on why a facial plastic surgeon can provide the best outcome for rhinoplasty patients, and how cartilage re-shaping can provide a longer lasting aesthetic outcome compared to the subtractive techniques of the past.
Irvine, CA — According to Dr. Ali Sepehr, a facial plastic surgeon in Orange County, rhinoplasty is one of the most difficult plastic surgery procedures to perform, due to the complex anatomy, as well as the intimate relationship of form and function. Fortunately, for people considering this procedure, board-certified facial plastic surgeons like Dr. Sepehr are experts in rhinoplasty, and have spent their career refining their approach to the delicate surgery.
Approximately half of the patients seen at The OC Center for Facial Plastic Surgery request rhinoplasty or revision rhinoplasty. Dr. Sepehr seeks to provide his patients with the best possible results, so he performs the surgery with reinforcing and stabilizing techniques when working with the cartilage. He says this change from the old method of cutting and removing cartilage will enhance the safety of the procedure, and allow the patient to experience beautiful, long-lasting results.
People who are either dissatisfied with the appearance of their nose, and/or who have difficulty breathing may be candidates for rhinoplasty. Patients who are unhappy with the outcome of a previous rhinoplasty may want to consider correction through revision rhinoplasty surgery. Dr. Sepehr says modifying a poorly functioning or unattractive nose is a very intricate operation that is accomplished by making small, discreet incisions around the patient's nostrils, allowing access to the bone and cartilage underneath the skin. The procedure becomes even more challenging if the patient is undergoing rhinoplasty revision, which may require additional time to complete.
Prior to operating on his patients, Dr. Sepehr meets with them in a consultation to create a personalized treatment plan. In the consultation, Dr. Sepehr says he will go over the patient's goals and concerns, as well as conduct a thorough examination of the nasal anatomy and facial proportions. "We would perform imaging to demonstrate the appropriate change in the shape of your nose that would complement your overall facial proportions and enhance all your facial features. We would then have a detailed discussion of all nasal reshaping options including filler and rhinoplasty, explaining how each would achieve the desired look," he says.
The Orange County facial plastic surgeon also encourages patients considering the cosmetic procedure to select a board-certified facial plastic surgeon, because "they are the experts that have spent their entire training and career specializing in rhinoplasty."
About Ali Sepehr, MD
Dr. Ali Sepehr earned his medical degree from University of California, Los Angeles School of Medicine and is a member of Alpha Omega Alpha Medical Honor Society. Dr. Sepehr's private practice focuses solely on surgical and non-surgical manipulation of the face. During his fellowship, he dedicated his surgical studies entirely to facial surgery, earning him international recognition as a specialist in the field. Dr. Sepehr is available for interview upon request.