Orange County Facial Plastic Surgeon Offers Customized Laser Skin Resurfacing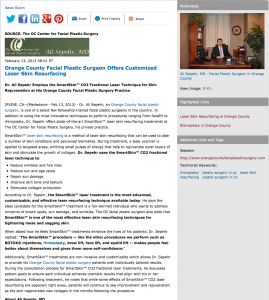 Dr. Ali Sepehr employs the SmartSkin™ CO2 fractional laser technique for skin rejuvenation at his Orange County facial plastic surgery practice.
Irvine, CA – Dr. Ali Sepehr, an Orange County facial plastic surgeon, is one of a select few fellowship-trained facial plastic surgeons in the country. In addition to using the most innovative techniques to perform procedures ranging from facelift to rhinoplasty, Dr. Sepehr offers state-of-the-art SmartSkin™ laser skin resurfacing treatments at The OC Center for Facial Plastic Surgery, his private practice.
SmartSkin™ laser skin resurfacing is a method of laser skin resurfacing that can be used to alter a number of skin conditions and perceived blemishes. During treatment, a laser scanner is applied to targeted areas, emitting small pulses of energy that help to rejuvenate outer layers of skin and stimulate the growth of collagen. Dr. Sepehr uses the SmartSkin™ CO2 fractional laser technique to:
Reduce wrinkles and fine lines
Reduce sun and age spots
Repair sun damage
Improve skin tone and texture
Stimulate collagen production
According to Dr. Sepehr, the SmartSkin™ laser treatment is the most advanced, customizable, and effective laser resurfacing technique available today. He says the ideal candidate for the SmartSkin™ treatment is a fair-skinned individual who wants to address concerns of brown spots, sun damage, and wrinkles. The OC facial plastic surgeon also adds that SmartSkin™ is one of the most effective laser skin resurfacing techniques for tightening loose and sagging skin.
When asked how he feels SmartSkin™ treatments enhance the lives of his patients, Dr. Sepehr replied: "The SmartSkin™ procedure – like the other procedures we perform such as BOTOX® injections, rhinoplasty, brow lift, face lift, and eyelid lift – makes people feel better about themselves and gives them more self-confidence."
Additionally, SmartSkin™ treatments are non-invasive and customizable which allows Dr. Sepehr to provide his Orange County facial plastic surgery patients with individually tailored results. During the consultation process for SmartSkin™ CO2 fractional laser treatments, he discusses patient goals to ensure each individual achieves cosmetic results that align with his or her expectations. Following treatment, he notes that while some effects of SmartSkin™ CO2 laser resurfacing are apparent right away, patients will continue to see improvement and rejuvenation as the skin regenerates new collagen in the months following the procedure.
About Ali Sepehr, MD
A graduate of the University of California, Los Angeles School of Medicine, Dr. Ali Sepehr is a board-certified facial plastic surgeon practicing in Orange County, CA. He has authored a number of medical journals and articles, and he consistently shares his medical expertise by teaching fellows, students, and residents from the University of California, Irvine Medical Center. Additionally, Dr. Sepehr is an active member of the American Academy of Facial Plastic and Reconstructive Surgery, the Alpha Omega Alpha Medical Honor Society, and a Diplomate of the National Board of Medical Examiners.
Dr. Sepehr is available for interview upon request.