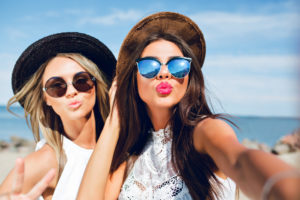 With so many non-surgical lip enhancement options available, it can be tough to find which is best for your own personal goals. For patients considering lip augmentation to address an uneven smile, restore volume to aging lips, and/or simply plump the lips, plastic surgeon Dr. Ali Sepehr recommends using JUVÉDERM®, JUVÉDERM VOLBELLA®, or Restylane®. While each of these cosmetic injectables offer similar effects, they each contain subtle differences that can offer patients substantial benefits.
The injectable dermal filler, JUVÉDERM®, is popular for its ability to help individuals soften deep wrinkles and add volume to the cheeks and lips. Some benefits of using this product for lip enhancement include long-lasting results and little to no recovery time.
JUVÉDERM VOLBELLA® is an innovative injectable dermal filler designed to add volume to the lips and soften the appearance of fine lines around the mouth. VOLBELLA® can be administered relatively quickly, and is praised for providing natural-looking results with little to no down time. Most patients are able to continue with their daily activities shortly after treatment. For a more comprehensive approach, these products can often be combined with other non-surgical or surgical facial rejuvenation treatments.
Like all JUVÉDERM® products, JUVÉDERM® and JUVÉDERM VOLBELLA® are FDA-approved and composed of a naturally-based substance called hyaluronic acid (HA). As HA is found in the human body, an allergy test is not required prior to treatment.
Similar to JUVÉDERM® products, FDA-approved Restylane® is an HA-based dermal filler. This treatment is popular among patients because it can help make lips appear fuller and more contoured. Restylane® is proven to have lasting results, but whether it lasts longer than other injectable products depends solely on the patient being treated.
Dr. Sepehr personally performs each of these cosmetic injections to ensure the best possible experience and that all patients' goals are met. If you are considering non-surgical lip enhancement, please contact our practice to schedule a consultation. Dr. Sepehr can recommend an injectable dermal filler or combination of injectables to best suit your goals.