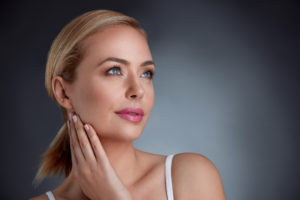 One of the most notable age-related facial changes we develop as time passes involves the gradual relaxation of facial tissue. When collagen production is at its highest, the face appears smooth, full, and youthful. As patients approach their thirties and forties, natural facial volume begins to diminish as skin elasticity decreases—the result being the development of "jowls," or sagging skin along the jawline. Jowls and the formation of deep wrinkles are widely-shared aesthetic concerns that can cause individuals to look much older than they feel. For those interested in restoring a more youthful version of themselves, a variety of surgical and non-surgical procedures are available to rejuvenate an aging facial appearance.
Facelift surgery can be the most effective procedure to significantly reduce or even eliminate jowls and facial creases. During this popular surgery, Dr. Ali Sepehr works within the underlying SMAS layer of the face to restore sagging musculature to its original position and tighten excess skin. The Lifelong Lift™, an innovative technique personally developed by Dr. Sepehr, is designed to work within the deeper tissues of the face, leading to natural-looking results that can last longer than a traditional facelift. While this cosmetic procedure is able to smooth jowls with the most enduring and transformative results, Dr. Sepehr also offers a non-surgical method of facial rejuvenation at his Newport Beach practice. In a treatment commonly referred to as a "liquid facelift," a combination of dermal fillers—such as JUVÉDERM Voluma™—can be utilized to temporarily fill pronounced wrinkles and restore volume around the cheeks, temples, and jowls. This non-surgical procedure requires no downtime, but the rejuvenation achieved only lasts a few months and must be maintained through periodic touch-up sessions.
Our board-certified facial plastic surgeon can lift and tighten sagging skin to remove jowls along the jawline. To learn more about our techniques, or to schedule a consultation, please contact OC Facial Plastic Surgery today.