Eyelid Surgery
The eyes are the most expressive feature of the face, and the upper and lower eyelids have a large effect on the appearance of the eyes.  Blepharoplasty (eyelid surgery) is an effective facial plastic surgery procedure that has the potential to dramatically affect our facial appearance and make us look more youthful and rested.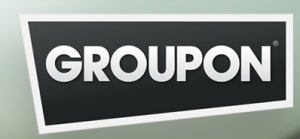 Learn About Our Laser Upper Eyelid Lift Pre and Post-Procedure Requirements, Click Here
Please contact The OC Center for Facial Plastic Surgery to schedule a consultation for eyelid surgery (blepharoplasty).
Eyelid Surgery Candidates
If the eyelids are stretched, wrinkled, or baggy, the eyes can appear tired and older.  Patients sometimes desire improvement in the upper eyelids, lower eyelids, or both.  Similarly, upper and lower blepharoplasty can be performed separately or together.  These surgeries are designed to remove excess skin (wrinkling) and fat (puffiness) and lead to wider, brighter eyes, which convey youth and alertness and more accurately reflects one's vigor and energy level. You may be a candidate for eyelid surgery if:
You have excess skin or fat in the upper or lower eyelids
You have vision problems secondary to excessive skin on the upper eyelids
You have laxity of the lower eyelids and desire a tightening procedure
>>DID YOU KNOW?
Blepharoplasty was the 3rd most popular surgical cosmetic procedure performed in 2010.
Upper Blepharoplasty
If stretched or wrinkled skin is the only aesthetic issue you are experiencing around the eyes, then an upper blepharoplasty alone can yield a great result. During your consultation, our board certified facial plastic surgeon, Dr. Ali Sepehr, will lift your forehead subtly to the appropriate level with his hands.  If that has little or no beneficial effect on the upper eyelids, then upper blepharoplasty may be all that you need.  If all of the redundant skin disappears completely, then all you may need is a brow lift.  If it does improve the upper eye lid appearance but redundant skin still remains, then a combination of both procedures may be recommended.
Upper blepharoplasty typically takes approximately one hour.  The surgery involves placing well-hidden incisions in the natural crease of the upper eyelid to make them nearly invisible after healing.  Excess skin and protruding fat are removed and the incisions are closed with fine sutures to further minimize the visibility the scar.  Healing time is minimized by delicate surgical technique.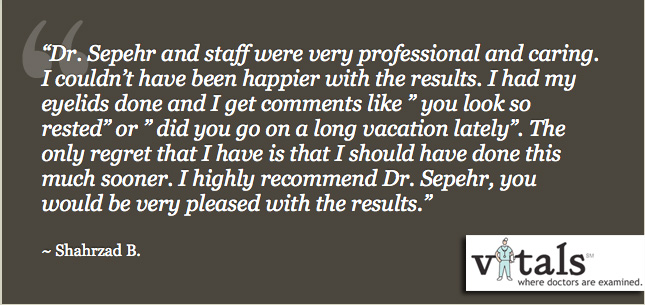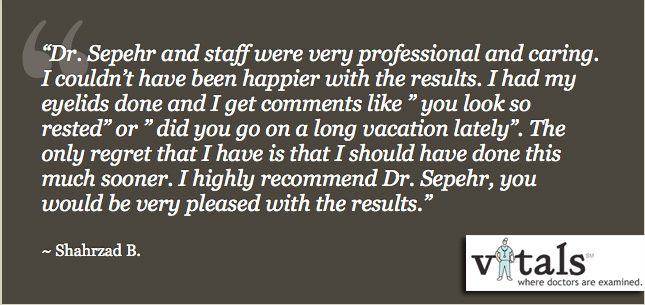 Lower Blepharoplasty
Our eyes are surrounded by fat which permit our eyes to move freely.  This fat is kept within the eye socket by the "orbital septum" which acts as a retaining wall.  Over time, the orbital septum weakens and allows the fat to protrude, producing puffy lower eyelid bags.  These lower eyelid bags cast a shadow leading to dark circles.
Lower blepharoplasty typically takes approximately one hour.  Patients are candidates for one of two approaches depending on their anatomy and their specific indication for the surgery: either from inside the eyelid or through the skin on the outer surface of the eyelid.  In some patients, lower eyelid puffiness can be treated through an incision inside the eyelid used to remove the bulging fat.  The lower eyelids can also have some excess skin and this can be treated in a variety of ways, including a little skin pinch excision or skin resurfacing with laser or chemical peel, which both cause tightening of the skin.  Dr. Sepehr will carefully evaluate each patient to determine the best procedure.
Recovery
There is minimal pain after this type of procedure.  In fact, patients typically only feel tired and want to rest the eyes.  Some tightness or pressure sensation is normal and can be easily treated with pain medications.  The eyelid tissues are very delicate, so any little irritation causes significant swelling.  However, since that swelling was caused by very little manipulation, it also resolves very quickly.  On average it takes ten days for the bruising to fade.  It is normal to have some blurry vision due to the hydrating ointment.
Of note: if the upper eyelid skin begins to rest on the upper eyelashes and obstruct vision, the surgery may be covered under insurance. This functional deficit may need to be documented.
Please contact Dr. Ali Sepehr for more information on blepharoplasty (eyelid surgery).
*Individual Results May Vary