Orange County Facial Plastic Surgeon Offers Customized Non-Surgical Facelift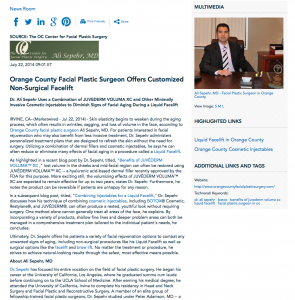 Dr. Ali Sepehr uses a combination of JUVÉDERM VOLUMA™ XC and other minimally invasive cosmetic injectables to diminish signs of facial aging during a Liquid Facelift.
Irvine, CA—Skin elasticity begins to weaken during the aging process, which often results in wrinkles, sagging, and loss of volume in the face, according to Orange County facial plastic surgeon Ali Sepehr, MD. For patients interested in facial rejuvenation who may also benefit from less invasive treatment, Dr. Sepehr administers personalized treatment plans that are designed to refresh the skin without the need for surgery. Utilizing a combination of dermal fillers and cosmetic injectables, he says he can often reduce or eliminate many effects of facial aging in a procedure called a Liquid Facelift.
As highlighted in a recent blog post by Dr. Sepehr, titled, "Benefits of JUVÉDERM VOLUMA™ XC," lost volume in the cheeks and mid-facial region can often be restored using JUVÉDERM VOLUMA™ XC — a hyaluronic acid-based dermal filler recently approved by the FDA for this purpose. More exciting still, the volumizing effects of JUVÉDERM VOLUMA™ XC are expected to remain effective for up to two years, states Dr. Sepehr. Furthermore, he notes the product can be reversible if patients are unhappy for any reason.
In a subsequent blog post titled, "Combining Injectables for a Liquid Facelift," Dr. Sepehr discusses how his technique of combining cosmetic injectables, including BOTOX® Cosmetic, Restylane®, and JUVÉDERM®, can often produce a rested, youthful look without requiring surgery. One method alone cannot generally treat all areas of the face, he explains. By incorporating a variety of products, shallow fine lines and deeper problem areas can both be managed in a comprehensive treatment plan tailored to the individual patient's needs, he concludes.
Ultimately, Dr. Sepehr offers his patients a variety of facial rejuvenation options to combat any unwanted signs of aging, including non-surgical procedures like his Liquid Facelift as well as surgical options like the facelift and brow lift. No matter the treatment or procedure, he strives to achieve natural-looking results through the safest, most effective means possible.
About Ali Sepehr, MD
Dr. Sepehr has focused his entire vocation on the field of facial plastic surgery. He began his career at the University of California, Los Angeles, where he graduated summa cum laude before continuing on to the UCLA School of Medicine. After earning his medical degree, he attended the University of California, Irvine to complete his residency in Head and Neck Surgery and Facial Plastic and Reconstructive Surgery. A member of an elite group of fellowship-trained facial plastic surgeons, Dr. Sepehr studied under Peter Adamson, MD — a highly esteemed facial plastic surgeon — during his Fellowship in Facial Plastic and Reconstructive Surgery. As a distinguished member of the American Academy of Facial Plastic and Reconstructive Surgery, Dr. Sepehr provides instruction on emerging technologies and procedures to other surgeons. He also continues to advise medical students at the University of California, Irvine Medical Center, and he has received numerous accolades, most recently receiving the Reuther Kris Conrad Merit Award. Dr. Sepehr is available for interview upon request.
To learn more about Dr. Sepehr and his practice, please visit orangecountyfacialplasticsurgery.com or facebook.com/ocfacialplastics.
Contact:
OC Facial Plastic Surgery – Ali Sepehr, MD
360 San Miguel Dr Suite 409
Newport Beach, CA 92660
(949) 371-MYMD (6963)
Rosemont Media
[email protected]
(858) 200-0044
www.rosemontmedia.com