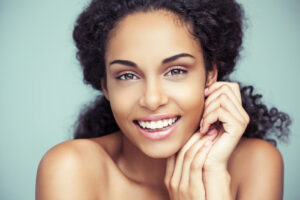 With the advent of wrinkle relaxing cosmetic injectables, frown lines (technically called the vertical glabellar wrinkles) can usually be minimized during a simple in-office treatment. Frown lines, or the "eleven" wrinkles between the eyebrows, are often an inevitable part of aging. They typically develop due to years of repetitive muscle contraction caused by your facial expressions. The formation of frown lines is completely natural, but they may unintentionally convey emotions of sadness, anger, stress, or discontent regardless of what you're truly feeling. Consequently, these small facial creases can prevent you from looking as bright and energetic as you may like to appear. 
In most cases, these concerns can be resolved with injections of BOTOX® Cosmetic—a very popular and effective injectable designed to temporarily prevent overuse of your facial muscles. However, if your frown lines are too deep and volume loss is present, then a combination of BOTOX® Cosmetic and dermal fillers yield the most optimal results. With BOTOX® Cosmetic, the muscles around the eyes and brow can relax and wrinkles caused by your facial expressions are smoothed for a look that is more lively and youthful. BOTOX® Cosmetic can successfully reduce not only frown lines, but also crow's feet and horizontal creases caused by a furrowed brow. Treatment is quick, convenient, and personally performed at our Newport Beach practice by facial plastic surgeon Ali Sepehr, MD. We believe that injections administered by Dr. Sepehr allow patients to receive the highest standard of care as well as an optimal outcome. 
To learn whether BOTOX® Cosmetic can help erase your frown lines, or to schedule an appointment at OC Plastic Surgery, please contact our practice and call (949) 371-6963 to speak to a member of our team.