SmartSkin™ Laser Skin Resurfacing
Utilizing the most advanced laser skin resurfacing technology available, our experienced facial plastic surgeon, Dr. Ali Sepehr, can enhance skin tone and texture and diminish the appearance of certain skin conditions. The SmartSkin™ device uses a fractional CO2 laser to reduce the effects of sun damage and the natural process of aging, as well as improve collagen production deep within the skin. Developed by Cynosure, the SmartSkin™ laser offers significant rejuvenation of the face and body without having to undergo a surgical procedure.
For more information about SmartSkin™ laser skin resurfacing, or if you wish to schedule a consultation with Dr. Sepehr, please contact our office today.
Benefits of SmartSkin™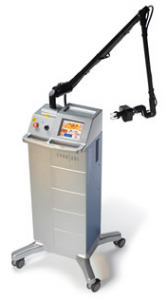 SmartSkin™ laser treatments are designed to maximize effects while minimizing discomfort. The CO2 fractional laser can address numerous aesthetic concerns efficiently with little to no downtime. Additional benefits typically include:
Diminished appearance of wrinkles, age spots, and sun damage
Improved skin texture and tone
Stimulated collagen production for healthier-looking skin
During your initial consultation, Dr. Sepehr will develop a customized treatment plan that can address your unique anatomical needs and expressed goals. Furthermore, he will discuss all the risks and benefits of the procedure and answer any questions you may have.
The Procedure
To enhance your comfort during treatment, Dr. Sepehr will begin by applying a topical anesthetic to the areas of concern. The SmartSkin™ laser will emit short pulses of energy into the targeted location, which will stimulate collagen production within the skin and help to rejuvenate your appearance from the inside out.
The entire SmartSkin™ procedure typically takes approximately 30 minutes, depending on the size and number of areas to be addressed. After treatment, you may experience some redness, tenderness, and skin flaking for several days, often equivalent to what may occur as a result of mild sunburn. While you may see some immediate benefits, improvement of the skin should continue for several weeks as new collagen forms.
If you have additional questions about SmartSkin™ laser skin resurfacing, or if you would like to schedule a consultation with Dr. Sepehr, please contact us today.