A Guide to Surgical and Nonsurgical Procedures with Irvine Facial Plastic Surgeon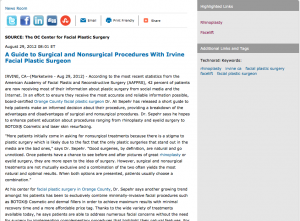 Irvine, CA — According to the most recent statistics from the American Academy of Facial Plastic and Reconstructive Surgery (AAFPRS), 42 percent of patients are now receiving most of their information about plastic surgery from social media and the Internet. In an effort to ensure they receive the most accurate and reliable information possible, board-certified Orange County facial plastic surgeon Dr. Ali Sepehr has released a short guide to help patients make an informed decision about their procedure, providing a breakdown of the advantages and disadvantages of surgical and nonsurgical procedures. Dr. Sepehr says he hopes to enhance patient education about procedures ranging from rhinoplasty and eyelid surgery to BOTOX® Cosmetic and laser skin resurfacing.
"More patients initially come in asking for nonsurgical treatments because there is a stigma to plastic surgery which is likely due to the fact that the only plastic surgeries that stand out in the media are the bad ones," says Dr. Sepehr. "Good surgeries, by definition, are natural and go unnoticed. Once patients have a chance to see before and after pictures of great rhinoplasty or eyelid surgery, they are more open to the idea of surgery. However, surgical and nonsurgical treatments are not mutually exclusive and a combination of the two often yields the most natural and optimal results. When both options are presented, patients usually choose a combination."
At his center for facial plastic surgery in Orange County, Dr. Sepehr says another growing trend amongst his patients has been to exclusively combine minimally-invasive facial procedures such as BOTOX® Cosmetic and dermal fillers in order to achieve maximum results with minimal recovery time and a more affordable price tag. Thanks to the wide variety of treatments available today, he says patients are able to address numerous facial concerns without the need for surgery by implementing complementary procedures that highlight their natural features. For example, facial wrinkles, deep creases, and a pronounced frown line can be treated using a combination of Juvederm® for volumizing the cheeks and lips and BOTOX® Cosmetic for diminishing wrinkles and creating a more youthful appearance.
Dr. Sepehr says the following nonsurgical treatments are just a few of the procedures offered at his practice and can be used to provide effective results in improving patient appearance:
BOTOX® Cosmetic: an injection designed to reduce wrinkles, crows feet, and fine lines. Results typically last from 3 to 6 months.
SmartSkinTM Laser Skin Resurfacing: a fractional laser used to smooth the skin and reduce the signs of aging and sun damage. Laser skin resurfacing can also help skin replenish itself with healthier layers.
Restylane®: an injectable dermal filler that can add fullness and volume to the lips. The procedure typically takes about 30 minutes to complete but results can last up to a year.
While nonsurgical treatments are often the preferred solution for many patients looking for a quick fix, Dr. Sepehr says there is no substitute for the results offered by a surgical procedure such as the facelift or eyelid surgery. He says surgery can produce far more noticeable results with a longer lifespan than minimally-invasive procedures, while advancements in incision techniques and placement have helped to further reduce scarring and minimize recovery time. Dr. Sepehr has listed some of the most popular surgical procedures at his practice for creating a more youthful appearance and improving self-confidence:
Rhinoplasty: a surgery designed to improve form (shape) and function (breathing) of the nose. Although it is one of the most complicated and complex procedures to perform correctly, results can dramatically enhance one's facial appearance.
Blepharoplasty (eyelid surgery): a procedure utilized to reduce the appearance of wrinkles or bags under one's eyelids and help patients look more youthful and rested. There is minimal pain following surgery, however swelling and bruising may take ten days or so to diminish.
Facelift: a technique used to minimize the sagging and drooping in the lower half of the face by repositioning facial muscle and fat back to their original position. The procedure typically takes three to four hours to perform and recovery time ranges between one and three weeks. Results will begin to show in the first months, but the most optimal results will become apparent after about a year.
In reference to the longevity of surgical and non-surgical results, Dr. Sepehr says:
"While a combination of BOTOX® Cosmetic and fillers can yield a brow or lower face lift, as well as minimal recovery time, their results last six months to a year and one would have to do maintenance treatments to keep the results. On the other hand, traditional brow lifts or facelifts have a longer recovery, but when done correctly, they look very natural and the results last over 10 years. It truly depends on one's preferences."
Regardless of whether patients decide on a surgical or nonsurgical procedure, Dr. Sepehr says anyone considering treatment should be sure to consult with a board-certified plastic surgeon before making any decisions. He says staying informed about the latest developments in techniques and technology is just the first step in achieving a safe and effective procedure, and researching one's practice is essential to receiving the highest quality results.
About Ali Sepehr, MD
Dr. Ali Sepehr attended the University of California, Los Angeles, where he earned both his
undergraduate degree and medical degree. He completed a residency in Head and Neck
Surgery and Facial Plastic and Reconstructive Surgery at the University of California, Irvine, as well as a Fellowship in Facial Plastic and Reconstructive Surgery at the University of Toronto.
Dr. Sepehr is board-certified by the American Board of Otolaryngology – Head and Neck Surgery and a member of the American Academy of Facial Plastic and Reconstructive Surgery. He is also a Diplomate of the National Board of Medical Examiners and has been awarded the 2010 Reuther Kris Conrad Merit Award for his work in facial plastic surgery.
Center for Facial Plastic Surgery, can be reached at (949) 371-6963. He can also be contacted online via the website orangecountyfacialplasticsurgery.com or facebook.com/ocfacialplastics.