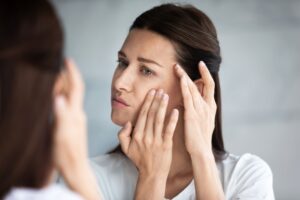 A facelift can improve many features that make you look older, such as sagging skin and deep creases around the nose and mouth. When researching aesthetic treatments to keep the skin healthy and youthful, patients often inquire whether facelift surgery is capable of correcting one of the most universal signs of aging — wrinkles. While a facelift performed by a fellowship-trained facial plastic surgeon can make a patient look up to ten years younger, the procedure primarily focuses on repairing stretched skin and facial musculature. This means surgery can smooth creases and make facial folds appear less pronounced, but superficial wrinkles around the eyes and brow generally aren't addressed.
Fortunately, individuals near Newport Beach can still reduce wrinkles during their facelift with adjunctive facial rejuvenation treatments. In many cases, planning a laser skin resurfacing treatment can help improve skin quality and smooth wrinkles. Alternatively, adding BOTOX® Cosmetic to your surgical plan (approximately 2 months after your surgery) can be an effective way to relax frown lines, crow's feet, and other wrinkles that form in the upper face. BOTOX® Cosmetic is a neurotoxin designed to temporarily relax facial muscles upon injection, thereby softening lines commonly caused by repetitive facial expressions. If your wrinkles are deeper or more prominent than BOTOX® Cosmetic can treat, dermal fillers like ​​RESTYLANE® and JUVÉDERM® may be a more appropriate solution. On top of replacing lost volume, these fillers can also smooth lip lines and other lower facial wrinkles. By listening to the concerns you want to improve, Dr. Ali Sepehr can custom-tailor your treatment to comprehensively refresh the face and achieve all of your aesthetic goals.
Dr. Sepehr understands that the choice to undergo facial rejuvenation can be a major decision and he's here to answer all of your questions about facelift surgery or our other cosmetic treatments. Please contact OC Facial Plastic Surgeryto schedule a consultation today.