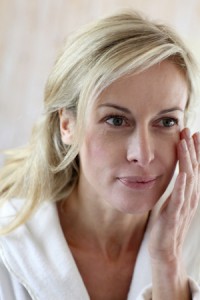 Designed to smooth creases along the forehead, reposition sagging skin, and reduce excess skin, a brow or forehead lift can help to restore a more youthful appearance with beautiful results. Dr. Ali Sepehr, our skilled facial plastic surgeon, typically utilizes a minimally invasive endoscopic technique when performing this procedure to achieve the best outcome possible with the lowest risk of side effects. If you're interested in an endoscopic brow lift, Dr. Sepehr can help you determine if this popular aesthetic enhancement may be right for you.
An endoscopic brow lift refers to several types of procedures designed to improve the cosmetic appearance of the forehead, from the eyebrows up to the hairline. During the operation, approximately three to five small incisions will be made in strategic areas that allow Dr. Sepehr to lift and re-drape the skin, muscle, and fatty tissue to a higher, more aesthetically pleasing location. If necessary, he will remove any excess skin that contributes to lines and heaviness on the brow, emphasizing natural-looking results that don't look pulled or tight. The tiny incisions typically heal well, leaving behind inconspicuous scars. As each patient's anatomy and goals are unique, Dr. Sepehr will customize the approach to optimize the benefits.
After the procedure, you should expect to take one to two weeks to recover away from work or regular activities. Dr. Sepehr will discuss what to expect from the healing process during your initial consultation as well as directly following the operation. An endoscopic brow lift can offer long-lasting results, though the length of the benefits will vary per person. Occasional use of dermal fillers and BOTOX® Cosmetic may be able to help you extend the outcome, and Dr. Sepehr can discuss this option with you if you're interested.
For more information about endoscopic brow lift surgery or to schedule a consultation with Dr. Sepehr, please contact our office today.