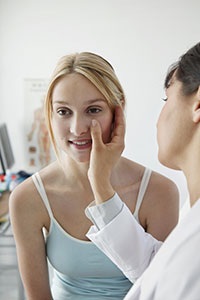 Patients who are unhappy with the results of an initial rhinoplasty procedure do not need to live the rest of their lives with that outcome. Revision rhinoplasty is an opportunity for a new plastic surgeon to correct any cosmetic or functional defaults that may have occurred during the patient's initial surgery. I typically encourage candidates for revision rhinoplasty to wait at least one year after their initial surgery before pursuing a revision.
As far as technique is concerned, revision rhinoplasty may involve additional sites for obtaining grafting cartilage – especially if the initial rhinoplasty resulted in an over-reduction, weakening, or destabilization of the nose. Working around scar tissue can also be a challenge, though, at The OC Center for Facial Plastic Surgery, revision rhinoplasty is one of our areas of expertise. We do not want anyone to live with rhinoplasty results that did not meet his or her initial expectations. Often the best way to avoid a revision is to make sure you thoroughly research your initial rhinoplasty surgeon's credentials and qualifications.
In our follow-up post, Dr. Ali Sepehr discusses the biggest challenge of revision rhinoplasty and how he approaches that challenge.
To learn more about revision rhinoplasty or to schedule a consultation with Dr. Ali Sepehr, please contact The OC Center for Facial Plastic Surgery.