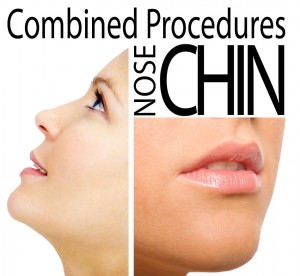 When I consult with my rhinoplasty patients, it is not uncommon that I might recommend for them to consider a chin implant, as well. The combination of procedures is very beneficial, as it creates a balance to the patient's facial features post-op. The original goal of rhinoplasty is to bring the patient's nose into proportion with their other facial features. When a chin is too small, it may make the nose appear much larger. When combined with nose surgery, a chin implant can prevent the appearance of jowls or a double chin, creating improved harmony in the overall appearance of the facial features. For facial plastic surgery patients who are already seeking to have both procedures, I might recommend having the surgeries at the same time to reduce recovery time for the patient, as well as costs. Each patient's case is unique and different, so I meet with patients in a consultation prior to surgery so I can create a customized treatment plan for them. My goal is to create a beautiful, natural-looking result that will leave each of my patients feeling happy and confident about themselves.
Contact Dr. Ali Sepehr
To learn more about combining rhinoplasty and chin augmentation, or to schedule a consultation with Dr. Ali Sepehr, please contact The OC Center for Facial Plastic Surgery.