SmartSkin Groupon
Improving Tone, Texture & Tightening in a Single Treatment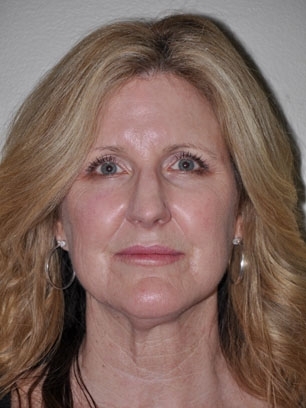 Before
After
View the Gallery
Fractional Laser Full Facial Skin Resurfacing: The goal of fractional laser full face skin resurfacing is simple: replace damaged skin with new, fresh skin. Techniques for fractional laser full facial skin resurfacing have made enormous advances, allowing nearly everyone to achieve close to flawless complexions. Many systems allow for light, moderate or deep laser resurfacing. The primary targets of this groupon feature are:
Fine lines and wrinkles of the face
Sun damage, brown spots and splotchy, uneven skin tone
Texture and tone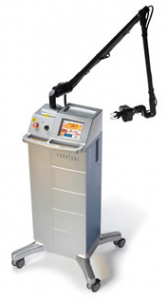 The gold standard of laser resurfacing systems, the SmartSkin CO2™ laser delivers thousands of tiny laser pulses in a pattern over the skin. Each pulse heats a column of tissue eliminating pigment discolorations at the surface and creating a zone of heating deep in the tissue. Unique to the SmartSkin CO2™, these zones of heating shrink collagen and tighten the skin immediately. The CO2 laser also offers the benefits of heating deeper layers of skin tissue, thereby stimulating collagen remodeling, tightening the skin further.
What is SmartSkin CO2™ "fractional" laser resurfacing? SmartSkin CO2™ is a fractional laser procedure performed in a single treatment with minimal patient downtime. During the procedure, a high-energy beam of laser light is used to smooth out lines and wrinkles; remove brown spots and other irregularities; and tighten the skin. With fractional laser treatment, only a fraction of the skin's surface is treated by the laser, leaving small "bridges" of untouched skin. This technique makes the healing process much faster and enables you to get back to normal activities sooner. This groupon feature is ideal for you if you:
Have a busy lifestyle or cannot be away from work for a long time
Want noticeable results with minimal downtime
Want to treat pigment and fine lines
What you can expect from SmartSkin CO2™: We will perform the procedure in the office with a topical anesthetic cream that is applied 30 minutes before the SmartSkin CO2™ procedure begins. There is only a mild discomfort associated with the procedure – most patients say they feel warmth similar to a hot towel or shower. You can drive yourself home after the procedure but for your comfort we recommend obtaining a driver to take you home afterward. With a gentle washing and moisturizing regimen, your sun damaged skin will begin to flake off within 2 days. After about 3-5 days, your doctor will probably let you wear make-up. Pinkness should be gone in about a week.
SmartSkin CO2™ benefits: This groupon feature will produce a dramatic effect on the skin:
Causes immediate skin tightening
Reduces wrinkles and fine lines
Noticeably improves skin tone and texture
The results of SmartSkin CO2™ laser treatment are long-term and, with proper sun protection, can persist for many years. The effects of treatment become visible right away.
Here are some other Frequently Asked Questions
Q: Does it hurt?

A: It doesn't hurt. After you get the oral pain medication and topical numbing medication you may feel a deep warmth.
Q: Is the treatment for the whole face or just one section? (nose, cheeks, etc.) Is it one treatment only or can you purchase two?

A: The treatment would be for the full face, so you don't need to purchase more than 1 treatment for yourself.
Q: Will I see results in one treatment?

A: Yes, you will see results in just one treatment.
Q: Is there a lot of redness, peeling ex. recovery time?

A: The first day you may have some swelling. You may have 1 or 2 days of redness, and peeling may start on day 2 or 3.
Q: I have brown spots on my face from sun damage. Will one treatment be enough to get rid of them?

A: One treatment will definitely improve/ help with removing sun damage. Your success will also depend on your sunscreen wear post treatment.
Q: What will my face look like in the 1-5 days following treatment? Will the initial damage to the skin be obvious to others, or can I go about my regular business in the first few days following treatment?

A: During treatment you will feel intense heat, not pain.

1st day – down time, you will look as though you have a bad sunburn and possibly some slight swelling.

2nd day – skin will be taunt and getting ready to peel.

3rd day – peeling with fresh pink skin showing through.

4th day – peeling / apply makeup possibly? 

5th day – getting back to normal – wear your sunscreen!
Q: Is it okay for pregnant women to get this done? Are there any risks specific to pregnancy?

A: You could certainly purchase the laser treatment now, but you should wait to use it after your baby is born. Given the hormonal changes, the laser could bring on unwanted malasma (brown areas) during pregnancy.
Q: Will you consider switching treatments, if I buy this groupon?

A: Yes, we could if the procedure is not right for you.
Q: What is the recommended age for this treatment? I'm 34 and I haven't done any treatments on my face.

A: It depends on the amount of sun damage that you have accumulated over your 34 years and your genetic skin type. Those who are either more susceptible to sun damage or have had more sun exposure will benefit from treatment at any earlier age.
Q: Would this firm up the area between my eye brows & my upper eyelids, that tends to fold down?

A: Laser Resurfacing is not meant to replace Blepharoplasty (upper eye lid surgery for sagging skin) especially in older patients. Laser Resurfacing will help make the eye lid firmer and the skin slightly smoother. If Botox is injected in the right place, it will help whole overall look of the eye, changing the shape of the eye brow (into more youthful attractive look) and also will help the drooping.
Q: If I pay for this CO2 treatment and after consultation find out that it just won't work for me, can I get a refund?

A: Yes. It is specified as part of the groupon offer. After consultation, non-candidates can choose to be refunded or apply it to another offer.
Q: How much of the face & neck would be treated ?

A: The Groupon offer is for the face which will include, face with gradual blending into the neck so there will not be an obvious boundary or treatment line. The face will include the area around the mouth and upper and lower eye lids with a lot of delicate work; usually charged separately in many practices.
Q: Is this laser treatment a package or is it one session?

A: The main purpose of this CO2 laser treatment is to improve the discoloration of the skin due to sun damage. Another benefit is that it also may reduce the appearance of fine wrinkles. Only a single CO2 treatment is required for this purpose. The CO2 laser may also be used to improve deeper wrinkles, but for that purpose either a deeper treatment or several treatments are required with more recovery time.
Q: Is the Smartskin CO2 a suitable treatment for sensitive skin that already experiences dryness and itchiness with some broken capillaries?

A: The CO2 laser can be used on sensitive skin and actually helps to rejuvenate it through increased collagen production. However, if you feel that your skin condition is severe, it may be worth getting a clearance from a dermatologist to ensure that you don't have an autoimmune skin disease that would put you at higher risk for this procedure.

Regarding broken capillaries (or spider veins), there are more directed treatments.
Q: Does the CO2 laser get rid of rosacea and age spots on the face. And what is the down time?

A: CO2 is one of the best treatments for sun spots and can improve/decrease them in as little as one treatment. The down time for this purpose is usually a few days. There are better treatments for Rosacea; namely, IPL (Intense pulse light).
Q: Typically how long will this treatment last?

A: The procedure can be performed in the office with an oral pain medication and simple topical anesthesia. The treatment itself is about 30 minutes. After only a few days of downtime, there is a minimal evidence of having undergone the procedure outside of having a newer skin with less sun damage and fewer blemishes that continues to improve over the next several months.

While the treatment does not stop the aging process, it may turn back the hands of time about 10 years. That 10-year difference would be kept for a lifetime.
Q: This deal covers just one procedure (treatment session) with the laser. My understanding is that most people require 3 procedures to achieve optimum results. Please advise. Thanks!

A: Decreasing the pigmentation of sun spots and improving fine wrinkles with this laser requires just 1 treatment. The CO2 laser can also be used to smoothen deeper wrinkles, and that purpose requires either multiple treatments or a deeper treatment with longer downtime.

You can see the laser full capabilities at the following link, but please keep in mind that this treatment is minimal downtime and for superficial blemishes and sun spots. It is not the deeper, longer downtime treatment.

http://www.orangecountyfacialplasticsurgery.com/non-surgical-treatments/laser-skin-rejuvenation-smartskin-irvine-ca/
Q: Does this procedure help with sagging jowls and bark brown spots?

A: This is the best treatment for improvement of brown spots. If they are dark, they will decrease but may not disappear. Although, it does tighten skin a bit, it is not a replacement for face and neck lift.
Q: Does this procedure require using general anesthesia?

A: It does not require general anesthesia. The procedure is done with and oral pain medication and sedative and simple topical numbing cream.
Q: This opportunity is for the face only. Can other areas be treated as well?

A: Examples of other areas are the hands, neck, and décolletage. They can be treated. And for groupon members, there will be a discount off of the regular prices.
Q: Does this procedure also improve the effects of sun exposure that gives the skin a ruddy complexion?

A: The CO2 laser treatment does help improve brown spots associated with sun exposure.
Q: Approximately how long to get a consultation ?

A: Dr. Sepehr does all of the consultations himself and makes every effort within reason to get patients in at their convenience. Consultation appointments are generally available within a few weeks and this groupon is good for one year.
Q: Hello, Is this procedure suitable for all ethnicities? Thank you

A: There are 6 Fitzpatrick skin types. Type 6, African American, is the only skin type that cannot be treated with the laser. Type 4- Mediterranean and Asian – and Type 5 – South American, Indian, Native American- have to take certain precautions prior to and after the laser treatment that will help decrease the risk of hyperpigmentation (skin darkening). We also have to be more conservative with the treatment for safety reasons in our Asian patients and patients with darker skin to prevent other complications. All of this will certainly be reviewed during your consultation, but the most effective results will be seen in Caucasian patients with lighter skin. White patients tend to be the best candidates for this laser treatment.
Q: Does this include the neck too?

A: This treatment is for the face, but the treatment will be feathered or blended into the neck to decrease the appearance of a demarcation line. Of course the neck can also be added to the treatment at a discount for groupon members. During your consultation, you can discuss other areas of concern with Dr. Sepehr.
Q: What kind of pain level are we talking about during and post?

A: During the procedure you feel a deep warmth, and afterward it feels like a sunburn.
Q: What kind of results can you expect with one treatment?

A: For uneven skin with sun damage and age-related brown spots you can expect a significant improvement in the blemishes after one treatment. You may also experience an improvement in fine wrinkles.
Q: How does this laser work?

A: The fractional CO2 laser treatment is the most up-to-date technology and offers the gold-standard treatment wrinkles, age spots and acne scarring. The fractional approach utilizes the body's natural healing response in a unique way. Instead of blasting away entire portions of skin, the new technology allows the laser to lay down rows of tiny, microscopic laser spots, evenly spaced across the skin, leaving areas of intact skin between them. Therefore, the skin surface is analogous to a checker board with the black spots treated and the white spots left undisturbed for rapid healing.
Q: Please specify if this offer is only valid on certain days/times.

A: Certain days have more availability because Dr. Sepehr is in the operating room the other days, however if our clients can only get in on a specific day will we find a way to work them in on evening office hours.
Q: I have heard that this treatment can be painful. Do you use topical numbing cream or sedatives during treatment?

A: It is not painful. During the procedure you feel a deep warmth. We use an oral pain medication and sedative and topical numbing cream for the procedure.
Q: Is this good for acne or acne scarring?

A: This groupon offer is not for treatment of acne scarring. That requires a deeper treatment and has a longer downtime.
Q: Does the treatment package include all the necessary after skin care products or are there any out of pocket expense after the procedure?

A: The groupon does not include any skin care products with the offer. You will need to get some prescription and over-the-counter medications that are commonly available such as cetaphil and Aquaphor. We recommend that you strictly adhere to the instructions to minimize risks. Faithfully following the instructions will allow the most rapid and easy healing possible.
Q: How effective is this procedure on African-American skin tone, to be more specific dark-skin tone.

A: While darker skin patients may have a higher risk of post treatment hyper or hypopigmentation, with the appropriate pre-treatment and the appropriate (more conservative) settings most can be safely treated. Unfortunately, African-Americans are not candidates for this procedure, nor are the likely to need this type of treatment.
Q: If I purchase this Groupon, how long do I have to use it? When does it expire?

A: You have one whole year to use the Groupon. The exact expiration date will be on the groupon
Q: I have spider veins and at least one dark spot on my cheeks. Will this treatment remove both or will I have to continue with a series of treatments?

A: One treatment should be fine, however there are better treatments for spider veins.
Q: I have dark patches on my cheeks that photofacials have been unable to remove. Would this do a better job?

A: Yes.
Q: I need work on my neck, lots of skin damage and bumps, will this groupon cover that?

A: The neck is not included in this groupon offer, however it can be added at a discount from the usual price.
Q: I bought myself a Groupon and the limit is 1 per person. My brother wants to buy me a Groupon as a gift. Am I allowed to use that or no?

A: Each person would only 1 of these treatment so it's one (1) groupon special per person. You are able to buy them as gifts for others, but any single client would not need more than 1.
Q: Is this deal for 1 treatment only or for a series?

A: This Groupon offer is for 1 treatment and most people won't need a series for the intended purpose of reducing uneven skin tone.
Q: What does the treated area look like after the treatment? Is there scabbing, redness, etc? How long before returning to work?

A: Everyone heals at a different pace, of course but on average the recovery time is approximately 3 days. You may experience swelling, scabbing, redness, spotty brown appearance, and peeling.
Q: The Groupon states "Limit 1 per person, may buy multiple as gifts." If I buy the more as gifts can I use them too, or if someone else buys it for me, can I can use that for a second treatment, or is this coupon for one treatment per person only?

A: The Groupon offer is for 1 treatment per person because each person should only need 1 treatment. You are able to buy multiple as gifts for others, however one groupon special per person can be used.
Q: Can the laser treatment eliminate the broken blood vessels on my cheeks and nose?

A: It can improve some very fine superficial blood vessels, but there are other treatments more specific for blood vessels.
Q: How does having botox affect this procedure?

A: Laser and Botox do not affect each other as long as they are not done at the same time. We recommend spacing the treatments at least 1 week apart and the order does not matter.
Q: I have quite a lot of sun damage on my face and my skin around my mouth has somewhat deep wrinkles, (almost like smokers lines but I have never smoked)! Can just one of these fractional CO2 treatments erase all this for me?

A: Yes, one Fractional CO2 can improve sun damage and wrinkling and aid tremendously in tightening skin, however this specific groupon treatment is mainly directed toward giving the skin a more even color by decreasing sun spots and blemishes. It is possible to smoothen deep wrinkle but that would require a deeper treatment with a longer downtime. At the time of your consultation you can upgrade to that treatment if you wish for a discount from our regular price.
Q: Is this the best procedure for removing brown spots on the face? Will the removed brown spots return? If yes, how long does it take until they return? Thanks!

A: This laser is the most up-to-date technology and Gold Standard in removing sun spots and dark pigmentation. This treatment can turn back the clock anywhere from 10 to 20 years, but it does not stop the hands of time. However, we recommend taking steps to prevent the spots from returning. Most patients can ward off the return of sun damage and brown spots with proper care e.g. sun screen and a healthy lifestyle, no smoking, and no excessive exposure to sun,
proper skin maintenance. Even if you do nothing afterward, you will always look better than if you never had the treatment.

Again, this is the best treatment for pigmentation and sun damaged skin. Bottom line, what other lasers try to achieve in 5-8 treatments, Fractional CO2 can do in 1 treatment!!!

Q: Is this treatment able to reduce blackheads on the nose and rest of the face? If so, how effective is it?

A: Yes, this treatment can be effective. However; if you are only suffering from black heads this is not the treatment of choice for you. There are other avenues to take if considering black head removal. We can help in a consultation once we have looked at your skin and advise from there.
Q: Can you define sun damage?

A: Sun Damage: damage associated excessive sun exposure causing premature aging of the skin such as large pores and hyperpigmentation, which goes by several names including liver spots, blemishes, sun spots, and brown spots.

Q: How long would someone need to stay off work after facial treatment?

A: We usually advise 2-3 days. But if you absolutely do not want to be seen with any residual effect, then you may need longer. 

Q: What sort of topical numbing medication is used? Can any additional pain medications be used/prescribed?

A: A topical numbing gel such as Benzocaine/Lidocaine/Tetracaine is applied one hour prior to treatment. We also give you an oral pain medication and an oral sedative. In addition, most patients do well to take ibuprofen prior to arrival.

Q: Tattoos—I have tattooed brows, eye liner, and lip liner. What are the results when performing this procedure on faces with this type of tattoos?

A: The lip liner, eyebrow and eye liner tattoos are not a problem as we would avoid them.

Q: How long has your office been performing this procedure, and how many of your staff have been trained to perform it?

A: Dr. Sepehr is the only one who does the procedures, and he has been doing these types of procedures for 8 years.

Q: I think the saving are amazing for this treatment…even for Groupon. I just wanted to verify if this is Groupon treatment is the exact same as if I had paid full price. Please let me know of any differences between the Groupon purchase or full-price purchase.

A: The Groupon is exactly the same treatment.
Q: I read that the treatment on the neck hurts more than the face and that the recovery time is longer…is this correct?

A: If you decide to add on the neck procedure, please rest assured that we take every measure to keep patients comfortable and pain free during procedure. We have not heard from patients that the neck is any more discomfort than the face.

You are correct, the neck tends to have a slightly longer recovery time, but maybe by a day or so.
Q: Does this treatment help with large pores and skin oiliness?

A: The CO2 can help tremendously with decreasing oiliness and pore size. However, the purpose of this groupon treatment is to reduce sun spots and create a more even skin tone with minimal recovery time. A deeper treatment is needed to decrease oiliness and pore size, and that would have a longer downtime.
Q: Can you do the consult and procedure at the same time?

A: Yes. Please be sure to check our website for all the preparation instructions so the procedure flows as smoothly as possible.
Q: Would this type of laser be effective for sebaceous hyperplasia? If so, would more than one treatment be needed?

A: This Laser is effective for sebaceous hyperplasia and it would only require a single treatment. Usually a deeper laser resurfacing would help more than the light laser resurfacing in this groupon offer but you will have a longer downtime. So there is a tradeoff. Hope that helps!
Q: What is the recovery time? Can I go to work the next day or would I have to take some time off work?

A: The recovery time can be different in different people but tends to be 2-3 days on average. Your face might be a little pink, but make up can be used after the few days.
Q: Is this typically a one-time treatment, or does it really require a series of treatments for results? Thanks!

A: This is a one-time treatment that is good for fine wrinkles and to help diminish sun spots and freckles. It is a light laser resurfacing so it doesn't go as deep but the recovery is quick. We will have special pricing available for additional areas and deeper laser resurfacing for Groupon customers in the office.
Q: What happens if we buy this deal and the Dr. determines that this type of procedure isn't the correct answer for my skin?

A: If you decide on a different procedure, for example a deeper laser resurfacing, the price you paid to Groupon will be applied to the different procedure, the whole $189. The office is discounting the price of the deeper laser resurfacing for Groupon customers, as well.
Q: Is this treatment the same thing as the PhotoFacial laser?

A: This procedure is a fractionated CO2 laser resurfacing. The PhotoFacial is a pulsing light over the skin, not laser resurfacing.
Q: Is this treatment appropriate for melasma and acne scarring?

A: Usually, melasma and acne scarring need a deeper laser resurfacing since the hormone caused pigmentation sits deeper in the skin. We have had success using a medium laser resurfacing for melasma but the downtime is longer, 7-10 days. Acne scarring also requires a medium to deep laser resurfacing.
Q: So, for melasma, what treatment is done?

A: Melasma is not effectivley treated by superficial laser resurfacing. A deeper laser resurfacing can lighten pigmentation from melasma.

You can apply your Groupon purchase to these deeper resurfacing treatments and get the special in-office discount if you choose a different treatment. Dr. Sepehr would need to discuss your goals with you to decide the appropriate treatment to meet those goals.
Q: How long do the results last and will we have to use special products after? Thanks!

A: The results from this laser treatment are permanent. It is a light laser resurfacing so it is appropriate for fine lines, lightening pigmentations and creating a more even skin tone. That is why the recovery is faster than the medium or deeper laser resurfacing which has more dramatic effects for deeper lines and wrinkles and removing pigmentation.

During the healing period, Aquaphor and Cetaphil are needed. After a good moisturizer and sunblock are sufficient!
Q: Do you have to stop using retinol products before this procedure?

A: You will need to discontinue retinol and exfoliating products one week before your treatment and for two weeks after treatment while your skin heals.
Q: What should you expect after the treatment? Is there oozing? Is this the same thing as the fractional laser resurfacing?

A: The laser Dr. Sepehr uses is the Cynosure Smartskin Fractional CO2 laser. Instead of lasing the whole skin surface, thin columns are lasered into the skin, leaving cells that help the skin regenerate more quickly. The treatment in this groupon does not go too deep into the skin so the downtime is less, 2 to 4 days, but the results are limited by the decreased depth. 
For the medium or deep laser resurfacing he does with this laser, the down time is longer but the results are more dramatic. You will see crustiness and some oozing with the deeper peels that resolves in 5 to 10 days depending on the depth.
Q: I would like to know if this is a PhotoFacial laser and also is numbing cream included in the treatment?

A: This is a laser skin resurfacing with the Cynosure Smartskin Fractional CO2 laser. A photofacial uses flashes of light. 
Yes, numbing cream is included in the price.
Q: I am assuming this is Fraxel. Can I use this coupon for the decolletage area or for hands?

A: Dr. Sepehr uses the Cynosure Smartskin Fractional CO2 laser. It is not the Fraxel laser.

The cells on the skin of the face are special in that they recover in a more reliable way. It is possible to use the laser on the hands, arms and chest however, a lower setting/depth must be used. These treatments can be added on to this groupon offer for a discount from the regular price for groupon members.
Q: I've heard that if you have this done, you can no longer tan. Is this true? What happens to the results if you tan after you are healed?

A: It is not advisable to do any further tanning after laser resurfacing because it counteracts the benefits. In fact, we recommend you use a high quality sun screen after laser resurfacing. If you plan on continuing to tan, then you may want to hold off on getting this procedure done at this time.
Q: Will Dr. Sepehr himself be doing the procedure?

A: Because this is a medical procedure, a doctor will need to perform it. The treatment will be performed by Dr. Sepehr, himself.
Q: Can we expect to see a difference in before and after. Is this laser treatment a stepping stone to more treatments? Or will someone who is looking to have minor acne scars removed and a more even skin tone revealed going to get results from this procedure?

A: There are two different levels of laser resurfacing that the Cynosure Smartskin CO2 Laser performs. The superficial laser resurfacing is appropriate for lessening pigmentation on the face, creating a more even skin tone and decreasing fine lines and wrinkles. 
The deep level of laser resurfacing can dramatically reduce deep lines and creases, remove pigmentations and sun spots and smooth and tighten the skin and help diminish acne scaring.

Generally, if you do one procedure, you will not be doing another unless you start with the superficial laser resurfacing and decide you want more dramatic results and choose a deeper level of laser resurfacing. The deep laser resurfacing treatment cannot be performed more than one time in the same 6 to 12 months. As the skin heals from these procedures over three months, you will see permanent and continued improvement in your skin.
Q: Is this procedure painful? Is the topical numbing cream included in the price?

A: The superficial laser skin resurfacing is gentle and usually not too uncomfortable. We will provide oral pain medication and sedatives and topical numbing cream, included in the price, for people who desire it.

The deeper laser skin resurfacing treatments offered by Dr. Sepehr always require the numbing cream. For those, Dr. Sepehr will often use dental numbing blocks to numb the area, especially around the mouth and nose, so he can do the deepest resurfacing-around the marionette lines and lip lines. He will also numb around the eyes with anesthetic for deeper resurfacing on baggy, wrinkled eye skin.
Q: Are you more likely to get better results with 1 Laser resurfacing or 6 Photofacials?

A: The two are not really comparable. The Fractional CO2 Laser is a laser resurfacing treatment that uses the laser to remove skin in specific depths and pattern. The skin heals and regenerates new cells, promoting collagen growth, smoothing the skin and evening out the skin tone. The deeper the resurfacing the more dramatic the results but the longer downtime one will have.

An LED photo facial is a very gentle treatment that uses flashes of light on the surface of the skin to promote younger-looking skin, or to kill the bacteria that causes acne. This type of photo facial is more likely to be found in a day spa. It is not a laser skin resurfacing treatment and does not have nearly the same effect. This is why the downtime for a photofacial is less and one requires multiple treatments for an effect.
Q: Would this procedure be advised for someone with rosacea, and some spider veins on cheeks and nose?

A: This laser resurfacing would not help or hurt your rosacea. The spider veins can be treated with a different procedure that cauterizes them with a very fine tip probe. It could be added on to your laser resurfacing for about $75. Dr. Sepehr would need to evaluate your skin to let you know what is best for the results you want.
Q: It's mentioned that there are 2 types of procedures used with this type of laser. Does the Dr. determine which procedure will provide the best results or is the special only for a particular procedure?

A: The groupon is for the superficial level laser resurfacing. It helps smoothen fine lines and wrinkle and lessens pigmentations and uneven skin tone. This is why the healing time is so fast.

The deeper level laser resurfacing will be offered to Groupon customers at a discounted rate. If you choose to change the procedure to a deeper one, the Groupon price paid will be applied to the different service.

The depth of the laser resurfacing you choose will be based on your goals and what Dr. Sepehr feels he can offer to meet your goals.
Q: Does this procedure help with actinic keratosis?

A: The superficial laser resurfacing does help with actinic keratosis but does not eliminate it. The deeper laser resurfacing, offered will remove it. If you are interested, the price you pay for the Groupon will be applied to the discounted rate of the deeper laser resurfacing offered to Groupon customers.
Q: I have a question about recent acne spots. Can I get the procedure while blemishes are healing or do I have to wait for them to heal completely, and will this help with discoloration on the surface of the skin from my light acne? Will this also help with some of the black heads in the pores?

A: If there are a few blemishes, the laser resurfacing can be performed. If there is a significant breakout, you will need to give your skin time to calm down. 
The superficial laser resurfacing is not appropriate for acne scaring. You will not see the results you desire with a light laser resurfacing. We see significant improvement for acne scaring with the deep laser resurfacing. Groupon customers will receive a discounted rate if they desire to have a deeper laser resurfacing. The $189 paid for the Groupon will be applied to the deeper level resurfacing.
Q: Can you buy more than one of these deals to use during separate visits? Or can you buy one and someone else buy you one? I know it takes usually more than one treatment to see the results.

A: If you decide you want a second or third treatment, when you bring in your Groupon voucher to the office, you have the option to purchase additional treatments at the original Groupon price. Likewise, if a deeper laser resurfacing will give you the results you want, the $189 can be applied to the deeper procedure. You can discuss your goals with Dr. Sepehr at your visit.
Q: I talked to my dermatologist a few years back, when I finished acutane, about the deep acne scars left behind. He said laser treatments may work but it's a full facial treatment and because I have slightly dark skin, it may not heal nicely. I'm probably a 4 or 5 on a scale of 10; 10 being dark. He ultimately said to see a specialist to see what they can offer, but to be careful.

How has your recovery been for Hispanics or Italians who have acne scaring and slightly dark brown/tanned skin?

A: After acutane, you must wait at least 6 months before you undergo any type of facial resurfacing.

Superficial laser resurfacing is not intended for acne scarring. The good news is that fractionated laser technology on deeper settings can give significant improvement on acne scarring. On pigmented skin, fractionated lasers are also safer and cause less de-pigmentation. In all cases, when you treat acne scars, you will have a bit lighter complexion after treatment than you have before the procedure.

Hope this helps, enjoy the Groupon!
Q: I'm 40 and have the brown spots on my cheeks and was told it was from birth control pills. I know it's hormonal but wasn't sure they were from the pill. If the pill DOES cause this, will the spots reappear if I continue with the pill after treatment?

A: The spots might be hormonal or they might not. In any case, if they are numerous and dark, the superficial laser resurfacing treatment will improve them but not completely remove them. It is not likely to make them worse. It is a misconception that the spots are caused by birth control pills, so if they are stubborn, it will be independent of the pills.

There are deeper treatments for hormonal spots (sometimes called "pregnancy mask" or melasma) that are more effective. If you decide to do a deeper treatment when we meet in consultation, the $189 you pay for this would be applied to the cost of a deeper resurfacing if that is what you elect to do.
Q: On the Fitzpatrick scale, my skin type is a IV. Will I risk hyperpigmentation with this treatment?
A: The laser resurfacing in this groupon offer is such that any hyper- or hypo- pigmentation is unlikely. If you are concerned, we can do a test spot in an inconspicuous area and wait 2 weeks to see if there is any skin tone change.
Q: Any chance you will extend this offer? Thanks for considering it!

A: The special price on this procedure is limited only to this event. We don't anticipate another offer like this one.

Thankyou everyone for your interest!